CUSTOM REMEMBRANCE BRACELET
The Remembrance bracelet by Rostozzi Art Studio is a great way to preserve and honor your special memories. It can be customized for any luminous occasion, such as anniversaries or the birth of a child. Give one as a gift so that they will always remember you and cherish what we have together. This adjustable delicate piece of personalized sentimental jewelry is crafted from copper with durable cord made of nylon, ensuring it will outlive your relationship or whatever else this stunning accessory reminds you about!
Take your legacy to the next level with Remembrance Bracelets by Rostozzi Art Studio. Preservanthe small (and big) moments of life's daily journeys in one heavy copper washer on a durable nylon cord.
Quick-witted and easy, these bracelets are a true keeper, preserving a historical account for generations to come. Let our artisan designers stamp memories that mean something to you onto this elegant bracelet – from an abbreviation or inscription that captures who you are meaningfully, to special dates and initials -keep them close as constant reminders of who you aspire to become mentally and spiritually. Celebrate each step!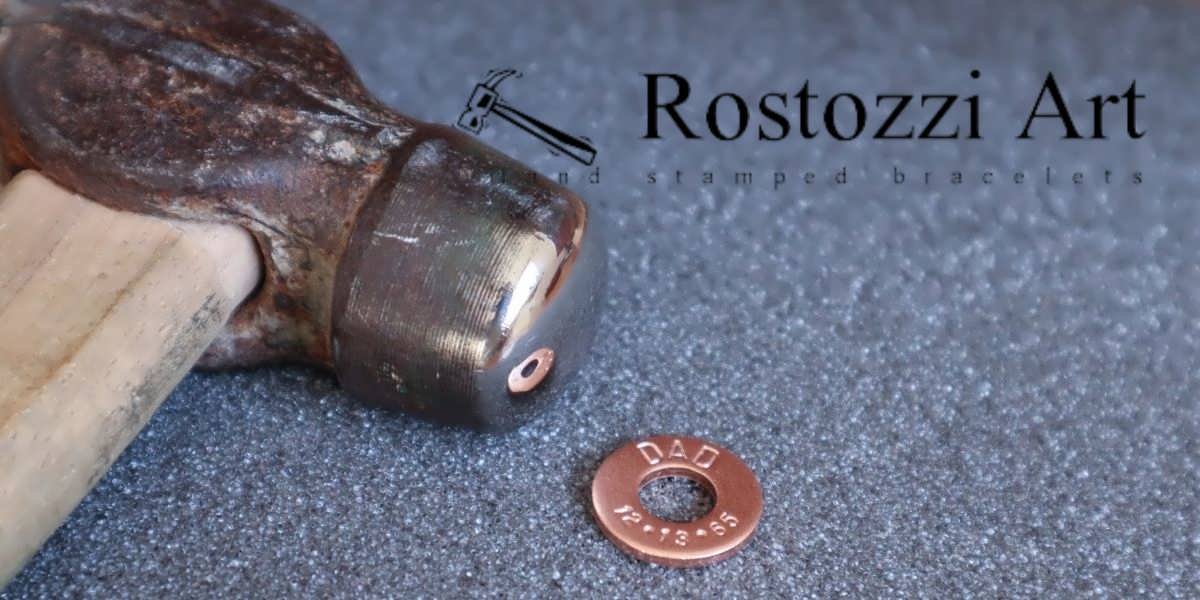 If you want to be able to remember all of the special moments in life, then get our Remembrance Bracelet by Rostozzi Art Studio. The best thing about this durable bracelet is that you can customize it with any inscription desired just on one side or both- so it not only looks good but has meaning too! Made for men and women alike, there are even color options for your cord so you can choose what fits your style best!
Remember every important moment in your life with a Remembrance Bracelet from Rostozzi. Wearing it will help you get through the tough times and enjoy the good ones. Preserve your legacy forever! Our bracelets are handmade by our artisans, stamped customizable for any inscription, date or initials you want engraved on one or both sides of each bracelet, thick enough for everyday use and long lasting design made personal just for you.
Consider this piece when looking for special gifts that your friends and family will love to wear year after year.
Our Remembrance Bracelet design is a distinctive and touching heirloom to honor any occasion. These customized bracelets are sure to be prized possessions for many years to come, so you can take comfort in knowing your loved ones will have something to remind them of the special memories that bind them together.
At Rostozzi Art Studio, our team has been crafting beautifully hand-made heirloom jewelry for decades from copper washers which have been stamped with an array of customization options including text on one or both sides.
Celebrate a life worth remembering with a Remembrance Bracelet from Rostozzi Art Studio. A unique gift for your loved ones, or remember that one special person who has passed on. Our artisan bracelets are designed to last forever and can be customized any way you want!
Our copper bracelet is not only stylish but also sentimental with the ability to write any inscription, dates, initials, name etc. This piece is an amazing gift for your partner or significant other who you want to remind of all the little moments in life that they may have forgotten.