PET MEMORIAL BRACELET FOR MEN AND WOMEN
Our pet memorial bracelets are just what you need to remember and cherish your special memories with your furry friend. This bracelet can be adjusted for men and women; it's adjustable in size on a very strong nylon cord. With this piece of jewelry, you'll always have a reminder of your best friend living on inside your heart!
This bracelet is made to hold the memories of a loved and lost pet. The copper will darken over time while keeping your bond strong.
Laconic minimalist style. This piece turns even ordinary grief into something special when worn every day as well as the anniversary of your pet's passing date. Come check out our complete selection of personalized sentimental jewelry!
We love customizing our jewelry with a paw print or any other sentiment you wish to memorialize forever – this also makes for a heartfelt gift. Therefore you should buy this bracelet for yourself or a friend who loves pets too.
Preserve the memories of your beloved pup with this beautiful pet memorial bracelet. Wear it in remembrance every day, forever remembering the loyalty and love their presence brought to your life.
Makes a great gift!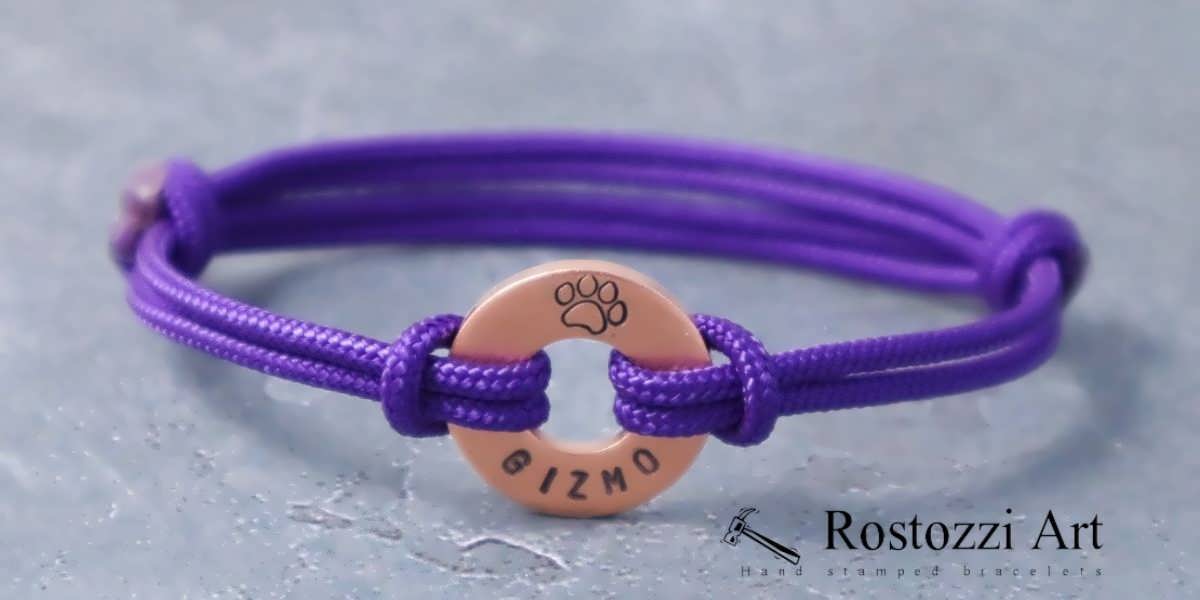 You are looking at a pet memorial bracelet. Pet fashion has become more popular over time, with many people owning more than one type of animal. The moment when your best friend dies is heartbreaking and you can't help but try to honor their memory with something lovely, stylish, and personalized.
What some people do is get paw prints tattooed on themselves or they request that their ashes be incorporated into the design of the new house–but some others prefer to purchase jewelry pieces in order to keep them close by for memories sake while still having someplace where they never have to worry about forgetting them again.
You'll love this wearable keepsake because sentimental memories are too important to forget, no matter how many years go by.
A truly meaningful and exquisite personal piece of jewelry will be an important part of your life for years to come.
Give it as a gift or keep it for yourself and you wont be able to resist the urge to wear this pet memorial bracelet every day.
Rostozzi Art Studio are artisan jewelers specializing in handmade, copper bracelets. Emotions are preserved by engraving them onto the bracelet so they can be worn any time, for decades to come. This sentimental jewelry is great for both men and women, regardless if they're single or attached; mourning or celebrating; living in sunny California or Minnesota; human beings at the end of life, starting over after heartbreak, dealing with aging parents who need
Pet Memorial Bracelet by Rostozzi Art Studio. This thick copper washer on a very strong nylon cord is adjustable and customizable to fit any size wrist up to 8", with text on one or both sides that can be written any inscription – the dog's name and a picture of a paw or just "Lucky."
We hope that you can create a piece of jewelry to commemorate your pets. Embrace the spirit of your best friend with a Pet Memorial Bracelet from Rostozzi Art Studio. Simple yet striking, delicate yet sturdy jewelry that will last throughout time via noble copper.