PET LOSS BRACELET FOR MEN AND WOMEN
Gone too soon, our best friend. Now we keep you with us always. We wear your paw print on our hand so everyone can see how much we loved you and how happy you made us just by being in our lives. This copper bracelet is the perfect way to remind ourselves that happiness is possible again one day after loving someone that was taken away from us far too soon. Easy-to-adjust cord ensures a customized fit for him or her while an inscription of their name will never be forgotten.
Personalized sentimental jewelry, a perfect gift for any lover of animals. A unique and exclusive way to remember a pet who is dearly missed.
"Some wounds never heal, but thankfully there is Rostozzi Art Studio. Sometimes it can be hard to say goodbye to someone you love so much, which is why Laconic minimalist style should please any man or woman looking for a way to honor their pup's memory."
It doesn't have to be your pup that passed away either – these heartfelt jewelry pieces are perfect for people with animal companions who need some extra love just as much as humans do. Show everyone that you care by giving them the gift. Of Noble Copper darkens over time but it resonates through even decades after they pass.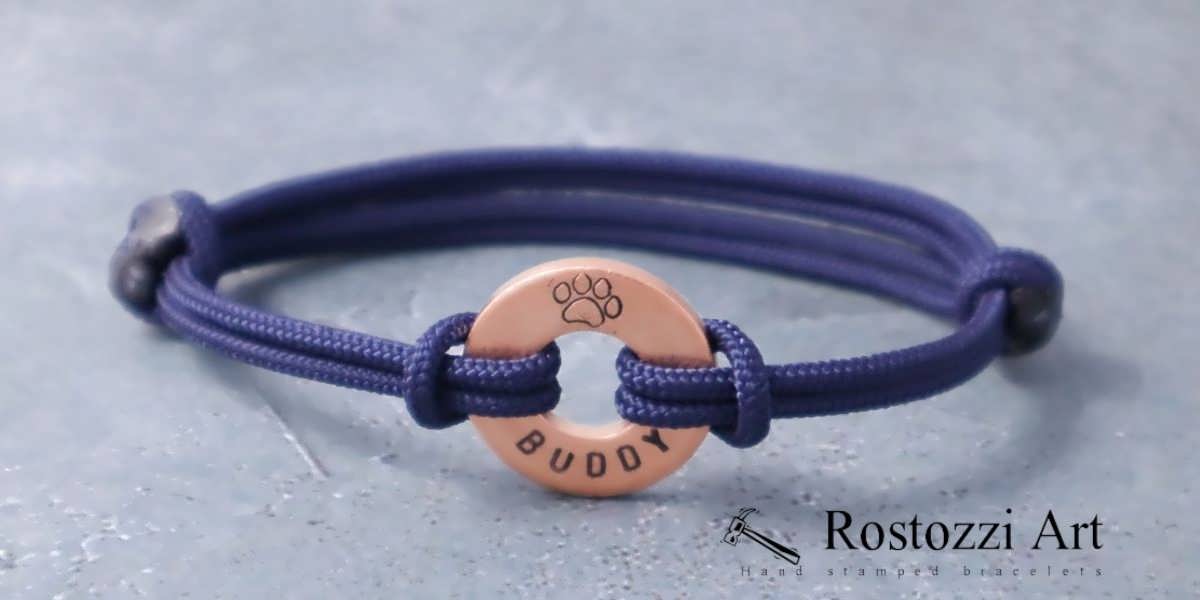 Help recover from a pet loss by wearing an amazing personalized sentimental bracelet to remember them forever. This copper washer has a thick washer on a very strong nylon cord and can be customized with any inscription — the dog's name and a picture of a paw, for example. This Laconic minimalist style is made by Rostozzi Art Studio where they create something simple and touching that you'll wear for decades to come.
Our pet loss bracelet is a comforting way to remember loved furry friend. Thick copper washer on cord, customizable bracelet that can be written any inscription – the dog's name and a picture of paw or any other text.
Every bracelet is hand made from Rostozzi Art Studio meaning that they combine two things: bright creativity with personal dedication giving that definitive touch to their products.
This piece was designed with you in mind – giving an opportunity to express your loss and share memories through well-planned words that will be worn daily by the individual. It's tough having such a fantastic friend leave, but we're here for you now and always; this personalized sentiment means more than anything else we offer. Let the world know how much you cared about your furry buddy: wear our handmade copper bracelet and show off all those feelings!