PERSONALIZED MEMORY BRACELET
Wear your loved one's memory with you all the time in our beautiful personalized bracelet. This bracelet are created using thick copper washer on a very strong nylon cord, ready to fit any occasion or need for sentimental jewelry. You can choose to have text on one or both sides of this laconic piece of art.
Noble copper darkens over time due to oxidation, but can easily be polished back into its original state – wear it for decades through many memories.
As the perfect gift for men and women alike who want something that will stand the test of time, this is just what you're looking for! Trust Rostozzi Art Studio with every facet of your life-time memory bracelet.
Stand apart from the crowd with this classy bracelet that is sure to be conversation starter. Enjoy remembering family members, friends, anniversaries and special moments that have become priceless traditions within your family. You should also know that it's easy to keep track of these memories because you can personalize each sentiment on top of a thick copper washer which will darken over time just like your timeless moments.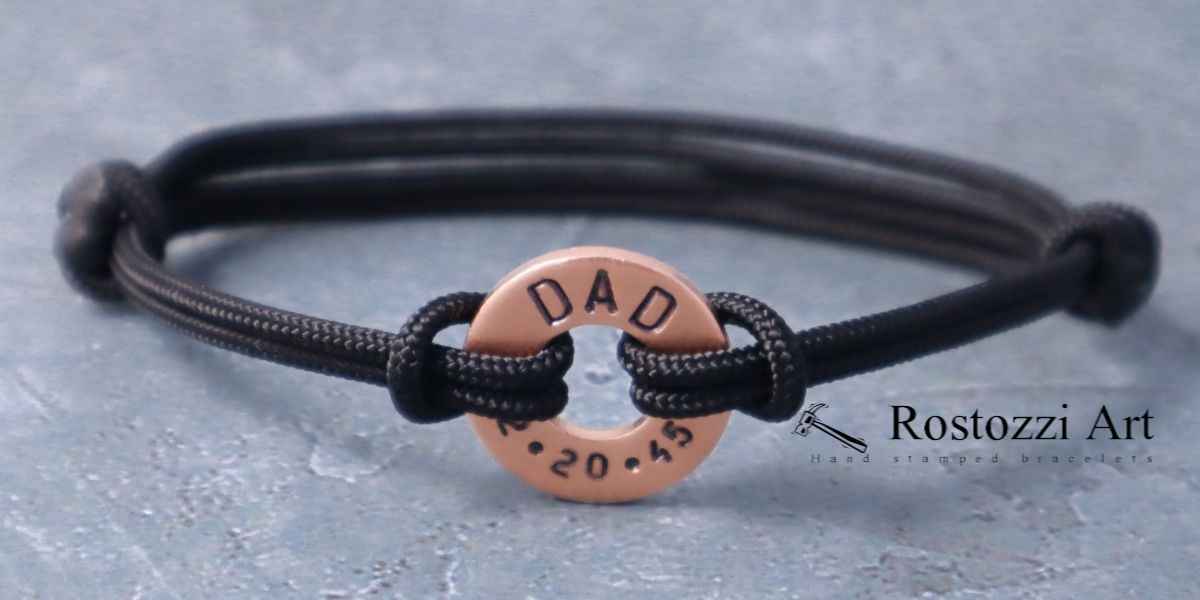 Women everywhere love the fact that this laconic minimalist style offers an inexpensive and discreet gift idea for men or women who want their meaningful sentiments ever-present at all times. Remember: don't wait until it's too late.
Remember those treasured moments all over again. Give the gift of our beautiful, customized bracelets so you can always carry them with you everywhere. Our custom made memory bracelet will hold your thoughts and memories for as long as you've care to wear it- making this a timeless treasure that they'll love more and more with every passing day. These personalized jewelry pieces are available for both him and her.
A personal and sentimental keepsake to treasure or remember someone. Wear this bracelet for decades and let it age like a treasured metal; all the while marking your memories with any inscription, date, initials, name.
What are you waiting for? Get your very own custom bracelet that commemorates the most important moments of your life! Give us a message if interested in placing an order; we'll help answer any questions about this beautiful product that's sure to please friends and family members.
Capture those memorable moments in your life with our delightful, personalized memory bracelets; choose from date stamps or initial engravings on one side and sentimental phrases such as "Lots of love always" on the other. With a masculine style like this, you'll be able to enjoy it for decades to come!
This Copper Memory Bracelet is an wonderful way to memorialize something significant. Although your loved one may be gone, they are not forgotten.
A thoughtful gift filled with meaning, the recipient will treasure their personalized jewelry-especially if their engraved words are about someone close to them who is passed away or has a serious illness. Whether you create a Memory Bracelet for yourself or for someone else, always remember what became part of who you are through all the everyday things life throws at us – good times and bad alike.
Rostozzi Art Studio is in the business of helping you keep memories alive. If you're looking for an alternative to heirloom jewelry, but still want to mark this special time in your life, personalize your own bracelet with any inscription– dates, initials, name etc. Priceless only goes so far when remembering our loved ones. This unisex piece can be worn for decades!