PERSONALIZED MEMORIAL KEYCHAIN KEEPSAKES
Darling isnt just a word. It's how we think of our Personalized Memorial keychain by Rostozzi Art Studio! Your loved ones special moments will be preserved and honored with this stylish, sentimental accessory that you can wear for decades to come.
Do you need another reason why not to miss out on one of the best gifts you can buy? Well, maybe we should mention: You can add personalized text on your keychain and its accompanying washer-pretty much anything at all meaningful to your heart!
We've got great designs for men and women as well as any specific tastes (or lack thereof) in mind. What are you waiting for?
Preserve life's memorable moments with our keychain. Our Personalized Memorial keychain is the perfect way to get your message engraved for years of everyday use. Each keychain is made from thick-copper metal so not only will it last you a lifetime, but they darken over time making them more attractive against the copper finish! This is a great gift idea for any men or women who need a stylish piece of jewelry with sentimental value on hand at all times!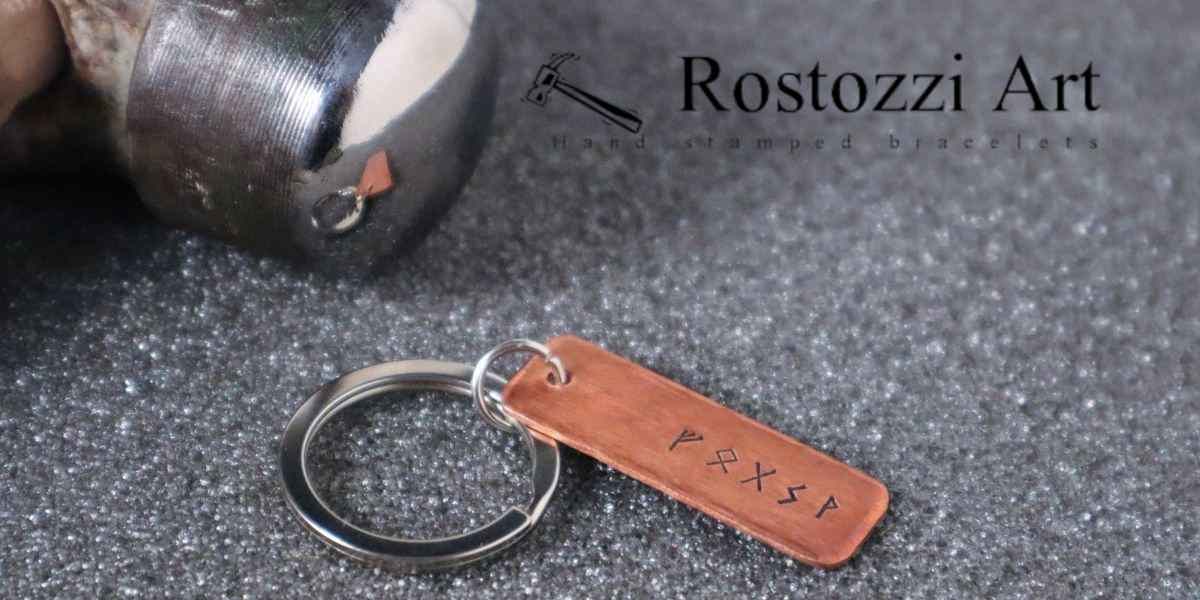 You choose what text you want on the key chain and washer; this is perfect for men and women! Personalized gifts are always great – they show people how special someone is to you. The dark copper finish gradually gets tarnished over time but a polish brings it back to its laconic minimalistic charm. Keep one on hand forever, remember all those precious moments that make up an ordinary day in extraordinary life- everyone deserves to feel appreciated on their everyday accomplishments!.
This personalized memorial keychain is a great way to preserve and honor your special memories. It's also a practical yet stylish accessory you can wear for decades! The word/phrase you wish to have inscribed on the copper washer just needs to be less than 18 characters. Stylish, minimalist design will never go out of style with this simple but elegant grieving artifact that transcends generations.
Capture the memory of a loved one with this special memorial keychain. Losing someone you love is never easy, but wearing them close to your heart will help you feel connected and whole again even if they're not there physically.
They say that the best way to keep memories alive is through sentimental souvenirs. These personalized memorial keychains can be used as a great reminder of personal memories and landmarks in life's story.
You can custom engrave any date, initials or word on this unique copper keychain which will develop a patina over time and remind you of all the special moments in your life when looking at it every day. The nostalgic design is ideal for men and women, so choose either one if you are not sure who it would make for the perfect gift.
Hand stamping allows us to create simple forms with clean lines instead of complicated etching techniques in order to preserve them just how they were
A thoughtful way to preserve your most precious memories. Our Personalized Memorial Keychain is a stylish copper keyring for men or women.
Preserve life's memorable moments with our keychain. A great gift – personalize it for someone special in your life today! Copper is a naturally occurring material that darkens over time; nothing artificial about its patina at all! You can add one or two washers to represent more memories if needed. It took hours of labor-intensive hand stamping for this prized copper creation by Rostozzi Art Studio.
Preserve your special memories and honor loved ones with a Rostozzi Art Studio personalized memorial keychain. We create something simple and touching to be worn for decades; this sentimental gift is designed for men as well as women.
Do you remember what it felt like when your loved one left us?
Preserve all the precious memories and moments that we need to treasure with our Personalized Memorial keychain. Make a memorial keychain in honor of your spouse or friend who has passed away – adding either one or two washers (or get creative!) is an awesome way to get sentimental without cluttering pockets. Engraved with their initials and the date they were taken from our lives, Rostozzi's personalizable keychains are beautiful reminders of those we love dearly who have moved.
Why choose a keychain? It can't just be any old piece of metal. Our Personalized Memorial Keychains keep memories close to your heart and they'll last as long as you need them. The keychain itself has a minimalist look with embossing detail and is made of thick pure copper so it will outlast everyday wear and tear for decades to come. This creative gift idea keeps thoughtful words alive and carries our personal message ever closer – next to your heart!