COPPER PERSONALIZED MEMORIAL BRACELET
Our personalize memorial bracelets are a light way to commemorate life! Thick copper will darken naturally over time but can be polished within minutes.
The grieving process can be difficult and choosing the perfect memorial gift can make it easier. Finding the perfect gift is important, as everyone has different ways of expressing their grief. However, choosing the right gift for a loved one can be even harder.
Memorial jewelry. There are many choices when it comes to memorial jewelry.
Personalized memorial gifts are always a good choice, as they allow you to show that the gift came from the heart.
If you are looking for a great personalized memorial bracelet, you have come to the right place. The gift of memories is most definitely a treasured gift to give to your loved ones on their loss. A bracelet can be cherished by your loved ones as a memento.
There are several ways to commemorate the life of a departed loved one, and a personalized memorial gift is one of the best ways to honor their memory and express your sympathy.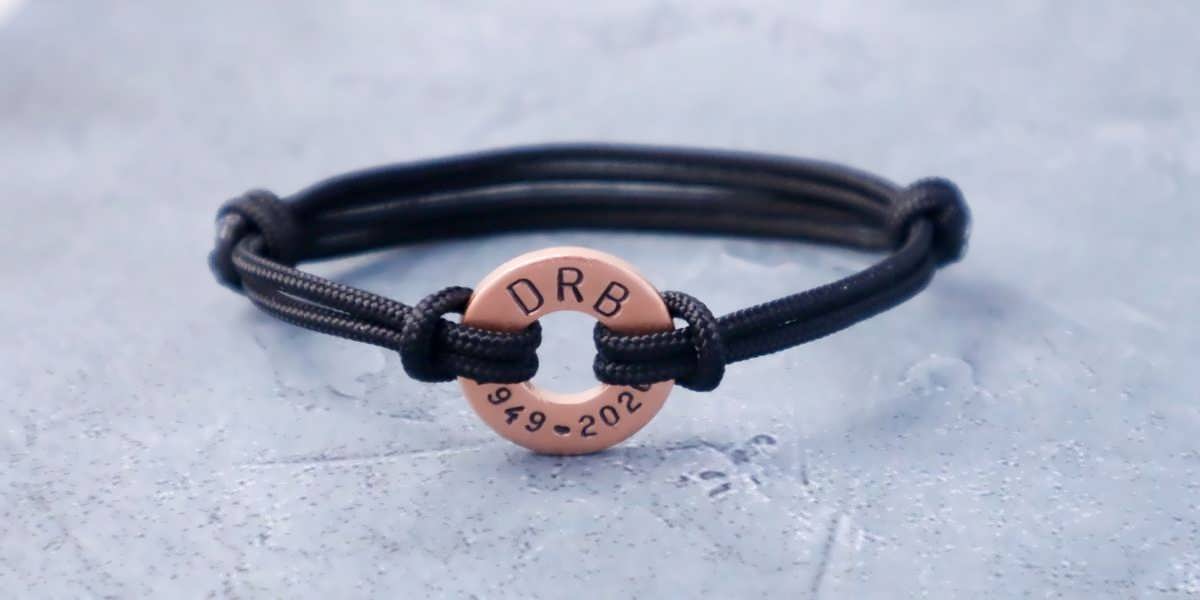 A one-of-a kind bracelet with a thick copper washer and nylon cord. Whether you choose to have it customized for yourself or as the perfect gift for someone else, this piece can be worn with pride for decades to come–perfect if handed down through generations.
Create a personalized bracelet to remember the one you loved. Made of copper, this piece will last for decades and can be worn by both men and women. You can have any inscription written on either side. When ordering please specify which color of cord you would like.
The Custom Memorial Bracelet is a handmade copper bracelet, hand stamped with custom words and texts. Adorn your wrist in one of these sturdy bracelets that can be worn for decades by men and women alike.
This custom bracelet is hand stamped with your text for the perfect personalized gift. This copper and nylon cord bracelet lasts a lifetime. You can wear it too or give to someone you care about as a symbol of their individuality, their uniqueness, and their timelessness. Get your hands on this unique design today!
This one-of-a-kind, handmade copper bracelet is a beautiful gift for the living and the dead. It has meaning on both sides of it, giving them a sense of never being completely alone. Plus, it lasts and becomes more personalized with age!
Storing memories of loved ones can feel difficult as time goes by. One way to do this is with our customizable memorial bracelets made from smooth copper while providing empowering words for daily reflection. For example: "Forever in my heart", "Always be my angel. These phrases offer the perfect sentiment for every moment of today with all the comfort of knowing your loved one lives in your heart and soul.
A custom memorial bracelet that is elegant, subtle, and meaningful. The copper bracelet can have any inscription you desire to commemorate a loved one or friend. You've always heard the saying "keepsake jewelry", well this is just that, an emotional keepsake that's infused with meaning and sentimentality for someone or something special in your life
The hand stamped letters lend themselves to be simplified in nature – some of them are monotonic while others branch out into more interesting stylistics. This creative use of simplicity allows for an even greater focus on associative memories – both good and bad
Rostozzi Art Studio highlights this as unhindered integrity so you can keep saying all the things you wish you could say but don't
Spend your time thinking of those who have passed on while creating something to wear for many decades. Customize the bracelet of thick copper washer with any inscription, dates, initials, or name you'd like in a Laconic minimalist style by Rostozzi Art Studio. The copper will darken over time as it oxidizes and metal is exposed to the air but can be polished back up with some rubbing. Wear this piece for so long that it becomes an heirloom that tells a story!
An in loving memory bracelet can be a beautiful way to remember a lost loved one.
These are wonderful and very memorable keepsakes.
A bracelet in memory of your loved one can say a lot. They could be a grandmother that recently passed away or a great aunt that was taken away from your life too. It is always a time of grieving for the family and friends of the deceased.
Every time you wear this bracelet, you'll be reminded of those special memories as well as the people who influenced your life.
One of the reasons why a memory bracelet is a good choice is because it's customized.
One idea that you might want to consider is a memory bracelet for men's and women.
Another reason to give a memory bracelet for women is because it is an affordable gift idea. If you would like to give a bracelet as a gift, this is a wonderful option that will also provide you with a lasting reminder of the special occasions that you shared together. If you are looking for a way to remember a special memory, you'll love having a memory bracelet for women on hand.
Personalized memorial bracelets for men provide you the perfect memento to remember a loved one. These beautiful bracelets for men are a great way to remember a loved one and to keep their memory close to your heart. An expanded memory means more to the grieving individual than words ever could. An expanded memorial bracelet for men gives the bereaved man something to cherish for years to come. Memorial bracelets for men provide a lasting memorial of the deceased.
You can have a handsome bracelet to wear daily or for special occasions. You can personalize the bracelet with your very own script to create a memorial to wear every day and every night.
Men have a special way of showing how much they love and care for their friends and family members. They are able to do this through things such as a men's memorial bracelet. You can show your friend or family member how much they mean to you through a memorial bracelet. Memorial bracelets are one of the most popular gifts for men.
You may even consider giving him one of these bracelets as a military retirement gift. It will show him how much you care.
Wearing a remembrance bracelet is a simple way to remember special memories in your life.
Grief gifts are a beautiful way to express your feelings about someone who has passed on.
A sympathy gift can be just what your father or mother needs to lift his or her spirits for a short while.
Wearing a memorial bracelet tells others that you lost someone, suffered from something or feel strongly about an event or cause.
You can also choose to send a sympathy gift that can be shared by many. In doing so, you'll likely become known as a generous and kind friend who was there for the person in mourning. This will provide him or her with comfort when they are going through a difficult time. Sometimes people are too worried about sharing their own feelings and thoughts, but you can't control how other people feel. It's your job, however, to provide them with the reassurance that you are there to offer them comfort, and if they need a hug, a shoulder to cry on, or someone to confide in, then you should be that person.