BEAUTIFUL PERSONALIZED KEYCHAIN WITH NAME
This personalized name keychain is ideal for many occasions.
You can add washer with the any text. Send a personal sentimental gift to your loved one, on this key chain will be written the name of the child or any other. This kind of decoration also makes an excellent anniversary present. You are able to quote their pet's name on this aluminum piece, it'll surely make more loveable! If you need anything personalized, contact us and let Rostozzi Art create something simple and touching to be worn for decades.
Feelings of goodwill will always surround you when you wear this unique rendition of your name engraved over quality materials made just for you by Rostozzi Art Studio!
This name keychain with the sentiment is an ideal gift for your kids, friends, or family. It will make them happy with their personalized touch of personality and delight with this one-of-a-kind custom engraved keychain. Personalizing Keychain allows you to be far more creative than using store bought gifts like teddy bears or any other typical Christmas presents that seem to go out of date quickly. With our beautiful product, they will cherish it forever because it was created with their name.
Taste exclusivity without limits-edifying touch copper!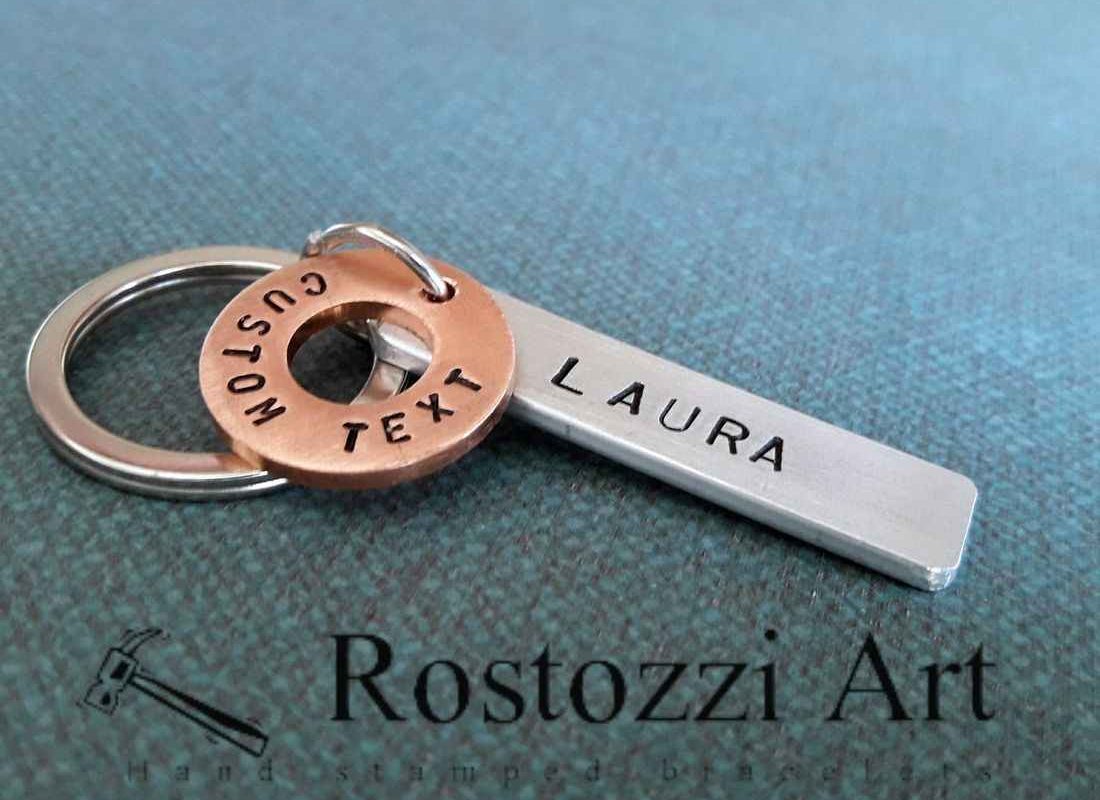 This personalized keychain with name is ideal for many occasions! It can be a gift for anyone, man or woman. You will find the perfect gift to express your love and show appreciation by giving this elegant gift.
The offered gift is a thoughtful gift for any person who loves personalized items. A custom gift with their name on it will make this keychain personal and special. The offered aluminum alloy keychain will allow you to put your loved one's name! Customize your order with the text of their choice, making the item even more fantastic. Get something simple yet touching, send them words they won't forget-they deserve nothing less.
A personalized keychain with name is an ideal gift for many occasions. It can be given to anyone on their birthday, as a wedding or anniversary present, or any day of the year that matters to them t o help commemorate the occasion. The personalized keychain is customized and printed on thick aluminum which never tarnishes. So it's perfect for men and women!
A personalized keychain with name is a great gift idea. Why not give a thoughtful present for anyone on your list? A personalized birthday gift, holiday gift or just-because gift has never been simpler than with the best personalization company!
Small enough to clutch on those long nights out yet distinctive enough to wear everyday, our name keychains will last as long as the love shared between couples or family members holding hands through life's journeys!
Give the best personal gifts for men and women that they can wear on their belt loops or keys for years to come!