CUSTOM FATHERS DAY BRACELET
He will appreciate this gift of a personalized bracelet with his child's name. He would never take it off for decades, always treasuring it as he looks down at his wrist. This elegant copper bracelet is designed to be durable and strong, yet delicate enough that he can wear it comfortably every day. It features Rostozzi Art Studio's hand-stamping technique in Laconic minimalist style. Our hope is that when they see this bracelet, dads across America plan to buy more than one so they will not forget their special little girl or boy who made them Father!
He'll treasure this bracelet for years to come and he'll never take it off.
A personal gift is perfect for dad. Getting him something lovely with the family's names on it is a heartfelt gesture that will be treasured forever. Our customizable bracelet can say whatever you want it to, from "Dad" to "Fisherman". The sentimental quotes make this a great Father's Day gift idea.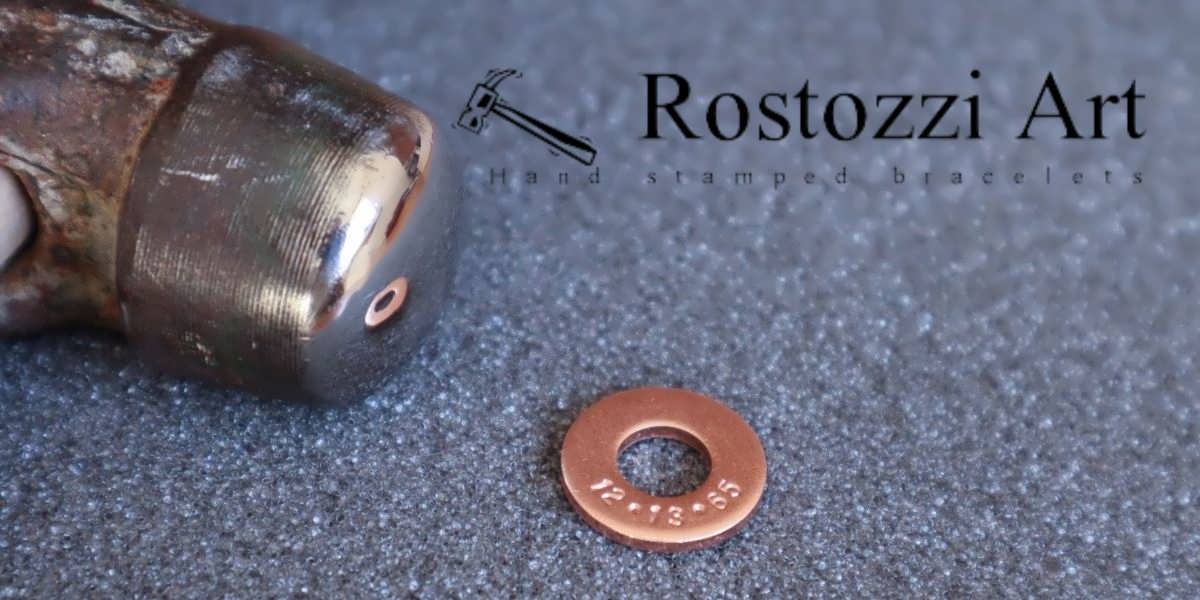 What better way to express your love for your dad than to give him one of the most personal gifts you'll ever get, a bracelet that's custom made just for him. Your dad will be so happy when he sees this personalized Fathers Day bracelet full of memories and sentimentality, all on an adjustable cord that can fit his wrist perfectly. And best of all, it will fit wherever life takes him–he can wear this bracelet while getting in touch with nature or working at the office; while swimming in the ocean or sitting by the fire place. Our fathers are fierce protectors for us until they pass their wisdom to our children; make sure he is proudly wearing something beautiful every single day!
This personalized fathers day bracelets are made from copper washer and nylon cord, stamped by hand with any inscription or initials of your choice.
A personalized Father's Day Bracelet to show your dad just how much you love him. Our personalization options are limited only by your creativity! Whether you're looking for a date of birth, an inscription, or any other name or event – we make it our goal to make the perfect bracelet for every occasion.
For new dads who spend all day volunteering at the kids' school, pitching in at home with chores, and squeezing in time to tuck their son/daughter/sons into bed each night – this is what they do because they HAVE to do it AND WANT TO DO IT!!! They deserve something simple but touching-a constant reminder that someone out there cares about them enough even when they can't put up Christmas lights without
Your new dad will love the long lasting sentiment this simple and touching gift. This bracelet can be worn for decades– very few items in life have such a rich sentimental value!
Sometimes dads are hard to shop for, but you'll never miss with this dad bracelet! It's a wonderful gift that says it all. And you can customize it if he has multiple children!
Makes a perfect Father's Day Gift or just something super special on those days when no words come easy!
Dad is a gift to the world, and he deserves something that matches.
Think about Father's Day- it's been mentioned in almost every commercial you've seen recently. You're rushing from store to store trying to find the perfect gift for dad while looking out for other shoppers who may be doing the same. Bonds are getting tighter as couples struggle with what to get their Dad on Father's day. The dads have already given so much so often without receiving anything in return! What should we get them?
They won't take a mug or a pizza coupon… but maybe mom has some ideas too! They will thank us when they open our gift on Sunday morning! This made just for Daddy personalized bracelet.