Nothing compares to a personalized bracelet that you can wear for decades. Whether it is a special date with someone special, one of your favorite quotes for when you need motivation, or your children's initials when they leave home for college – nothing will be lost in the passage of time because you've engraved these memories on copper and placed them around your wrist for all to see. You'll find yourself looking at this bracelet often so the magnitude of feelings from past events are never forgotten…
A beautiful, sentimental piece of jewelry with thick copper washer engraved with any desired text on one or both sides. The bracelet can be worn for many years and is adjustable for a perfect fit.
If you want to give him a present that shows how much you care or just need something special for his birthday, let this Personalized Bracelet by Rostozzi Art Studio be the perfect first step. For an ultimate personalized touch, choose from one of our designs with dimensions suitable for any wrist size and full customization on the text he'll wear every day. Your custom engravement will make this timeless piece uniquely his own, symbolizing your love or solidarity forever.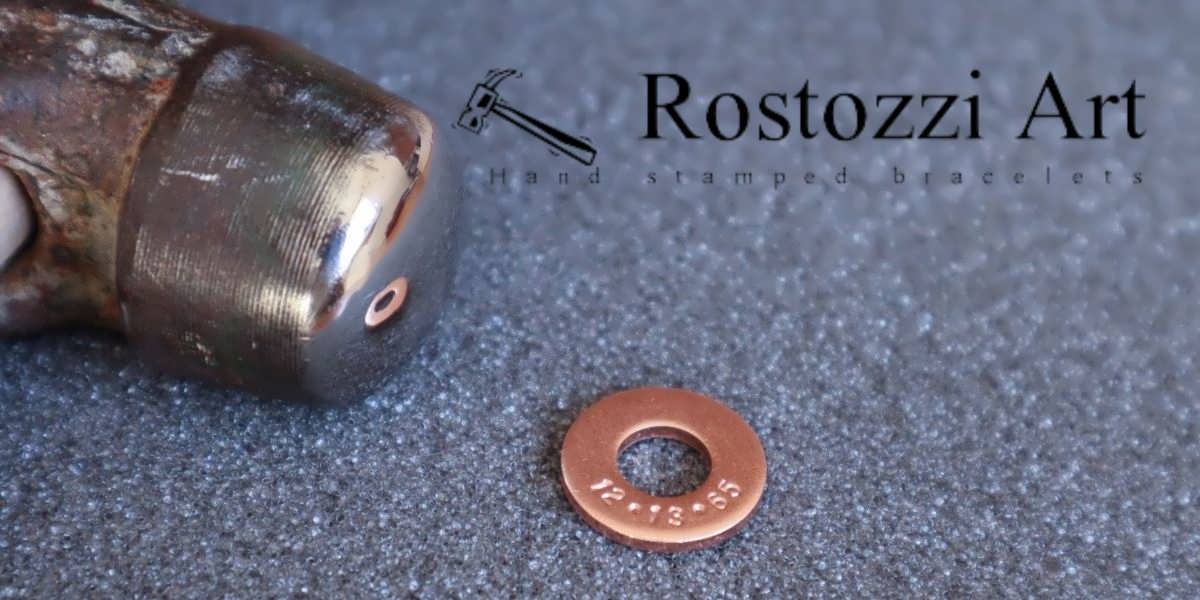 Best man gift, Christmas present for husband or boyfriend, "let him know you'll always be there." When your relationship is a world of two people on their own, knowing that he has one more person to lean on just might save him from breaking down. We all have invisible bonds that keep us steady when things get tough and swing from side to side–these bands represent a time between the two of you where something precious was created and become an inseparable thing so meaningful it can't be undone. Personalize this beautiful piece with some special words inside the washer to create a keepsake reminiscent of best friends or significant other.
A beautiful personalized memento bringing light into your favorite memories with you wherever you go!
"Treat your loved ones to a personalized bracelet. Our Rostozzi artisans can print your personal message on one or both faces of this hand stamped cuff, customizing the style and length. If you're looking for an antique-style design with memories of different eras built in, our copper men's bracelets are just for you."
"A unique reminder that life goes on!"
The Personalized Bracelet for Men is made of Laconic minimalist style. It has the potential to last many years and preserve memories throughout it all. The classic yet modern bracelet can be personalized with any inscription you like! Another option is that if you're looking for something personal in your jewelry, then Rostozzi Art Studio makes beautifully hand stamped pieces that are perfect in every way.
A personalized bracelet is a perfect gift for men that are deep thinkers or have fathers who are no longer present in their life. For any occasion, this jewelry reminds him of you and what you share together. Customizable bracelets can be written with anything from an inscription to dates, initials, name, etc.; it will still hold meaning to the wearer every time they wear the bracelet long after he receives it. Men wear these jewelry for decades because our masculine style bracelets looks great with any outfit! Choose your favorite cord color at checkout!
When's the last time you received an engraved jewelry, which made your heart melt? A bracelet that belonged to grandma or granddaughter is something really special. We offer a beautifully hand-crafted Personalized Bracelet for Men, which looks great layered with other bracelets and worn on its own. The nylon cord is very strong and brings beauty of copper washer shaped by Rostozzi Art Studio into play. You can choose the color of the elastic cord. The inscriptions are always written in black, so they will be visible nicely even over time when this piece becomes visibly aged because of Noble Copper darkens over time but can easily polished! Remember every moment full of love.
This beautiful and stylish Rostozzi bracelet is the perfect gift for him. Thick copper washer on a very strong nylon cord with an adjustable size to fit most wrists, which you can choose the color of the bracelet cord. The hand-stamped metal can be customized with any inscription, including dates and your initials or name, making it a treasured keepsake he will remember why it's so special to them and treasure always. Most importantly this product is made by our artisans which carefully stamp up with great detail so it looks as unique as its wearer! It can be worn for decades that preserve unforgettable moments of life like weddings, graduations or birthday celebrations forever! Personalized sentimental jewelry that never goes out of style.
Custom-made bracelet for men that will act as a reminder to think about your life and the moment at all times. The handmade copper bracelet is reserved for making hand stamped messages, initials, dates or any other symbol you want to remember always with you.
Discover this simple and touching handmade custom design with copper washer made by Rostozzi Art Studio. This item has an adjustable cord, can be written any inscription, is made of noble copper that darkens over time but can be easily polished, and it will sync with your free-spirited personality for decades. It's a personal sentimental jewelry for those who want something simple and to be cherished forever.