MEMORIAL DOG BRACELET FOR MEN AND WOMEN
A great way to memorialize your dog-child with a Memorial Dog Bracelet by Rostozzi Art.
Do you know someone who has lost their best furry friend in life? how about a child who just had to say goodbye to the family pet, or an elderly person with limited mobility – do they need some help coping with these big losses? for this reason, we invite you to wear your love and honor in memorial splendor. Our personalized Memorial dog Bracelet is for any grieving party; it will become one of the most meaningful pieces of wearable jewelry they'll ever own. commemorating their special pup is particularly important because when you lose a pet, all that's left are the memories!
Give a custom bracelet in memory of your dog with a paw print and their name on it. You can keep that part for yourself or give it to someone else who loved them too. The materials are strong copper with nylon cord, which will stand the test of time.
If you want to keep a part of your pet with you every day, the 'Memorial Dog Bracelet' by Rostozzi Art Studio is a great way for his/her memory to live on.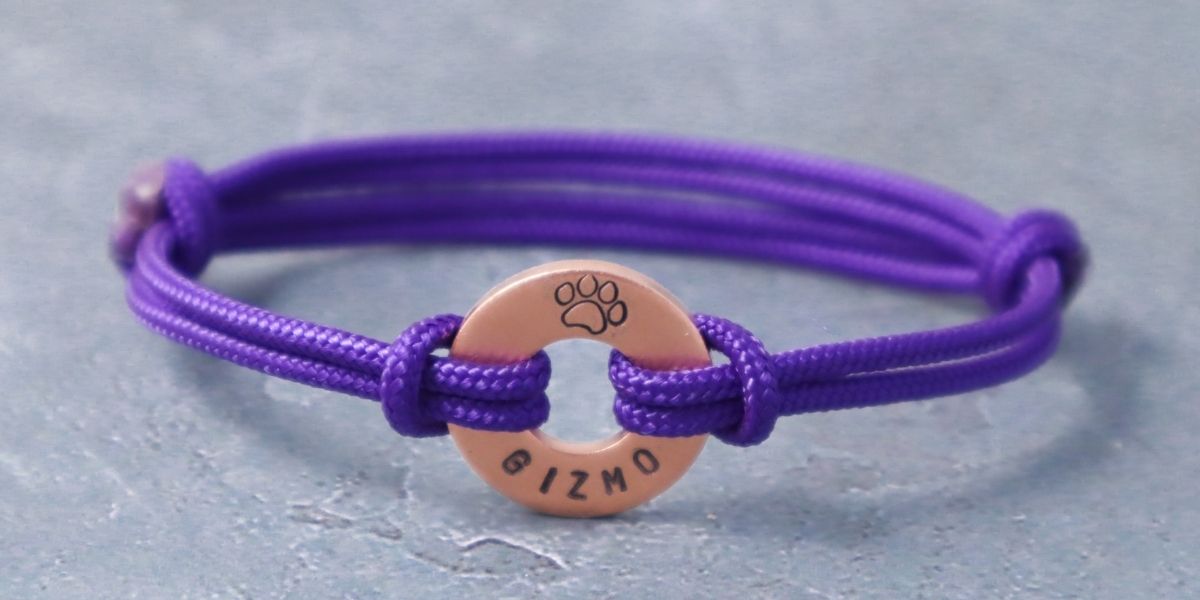 Memorial Dog Bracelet are perfect for preserving memories and honoring your pet's legacy. We at Rostozzi Art offer some free text writing design features so that not only do our memorial charms look great but carry sentimental value as well! Around your wrist is the best place to bear your doting memories of Fido or Fifi – show everyone how much they meant to you with this beautiful piece of personalized jewelry made by artists who care.
This Memorial Dog Bracelet will keep all of your best memories close to your heart. This beautiful bracelet not only serves as a beautiful memory but also becomes an everyday reminder of how treasured these memories are to you and can be worn and shared every day and throughout every year.
For anyone with a living or deceased pup, the memorial bracelet is the perfect way to keep memories close to your heart.
A thoughtful and sentimental gift for the person who has a puppy's name engraved on their heart.
A Memorial Dog Bracelet will never lose it beauty, making it a long lasting remembrance of honor for all seasons. You can choose from our variety of bracelets or create your own personalized bracelet with any inscription you desire – even memorializing your late pup's favorite toy! These are also lovely custom pieces that would make a loving pet parent smile, whether they're buying one for someone else or themselves. Put something sweet in their "special memories jar" when you give them this warm-hearted and thoughtful memento created by Rostozzi Art Studio.
Anyone who loves their furry companion will enjoy this sentimental memorial gift!