COUPLES MATCHING KEYCHAINS
Our artwork changes things from mundane to magnificent.
Rostozzi Art Studio is a small artisan business dedicated to creating personalized items that capture your life with style and humor. For the last year we have been busy working on one-of-a-kind matching key chains for couples, made of thick copper with distinctive hand hammered texture and washer with any text available. Our products are perfect for people who want to wear something tangible all day long – plus it's a great gift idea for Valentine's Day! Tell the story behind you with our custom sentimental keychain today!"
Can't think of anything witty? Get creative.
Customizable keychains! Get a matching set of 2 matching couples keychains with personalized text for your special someone. You can add a washer to show off any custom message or anything you would like on the product.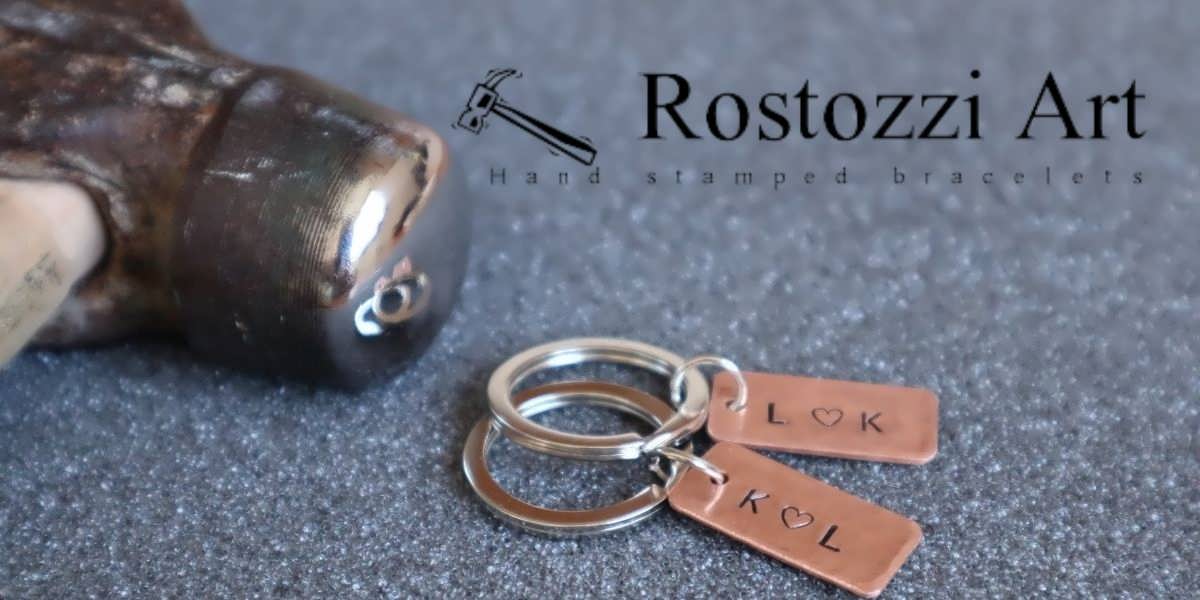 Copper Keychains by Rostozzi Art Studio are durable and distinctive, yet beautifully simple. They're a great anniversary gift to commemorate all those years together, not just as soon as they happen but every year after! Personalize these keychains for a meaningful present that will do more than just remind you of each other every time you pick up your keys–it's a touching reminder of how far you've come together over the years.
Our Matching Couple Keychains are perfect for couples looking to commemorate their first Christmas together or first anniversary. Our keychains are handmade so you know they'll be made with the utmost care and attention, ensuring each one has a personality of its own. The copper is cut by hand so you can expect distinctive textures across the surface of your keychain – adding that little something extra that will make it unique to you.
A perfect gift for any heartfelt loving couple to celebrate life's significant moments and statuses.
Romancing your partner in a simple and timeless way has been one of the most romantic gestures from early on. That sense these feelings never die is why we create custom, personalized keychains based on someone special to you. From our collection of laconic minimalist designs that are both elegant and distinguished, choose your very own mating pair's matching keychain for lovers who want to savor every sentimental moment again and again.
The perfect gift for couples or singles alike, preserving life's memorable moments by carrying them with you always so it feels like they're there with you during the eventful times. Pair this duo together for unsurpassed style.
The perfect slogan for any couple with matching keychains, Rostozzi Art Studio's Matching Keychains for Couples is a thoughtful Valentine's Day gift for the two of you. Personalized as you like and made from thick copper by hand, this set includes distinctive hand hammered texture on both copper tag making them stand out even more!
The keychains that will last a lifetime. From Valentine's Day this year to your anniversary next year, cherish your love with matching copper keychains from Rostozzi Art Studio. Our hand stamped designs are customizable and made of thick copper so nothing stands between you and the best gift for two couples can pick out.
Set of matching keychains for couples. Keychain is made thick copper with distinctive hand hammered texture copper tag and made by Rostozzi Art Studio. It's a thoughtful, personal gift that will last for years to come. You can add personalized text on the washer!
Do you want to give your partner something more than just another box of chocolates on Valentine's Day? Instead, present them with one of our sleek matching keychains. Their keychain will match yours and this significant gift is designed to be worn for the rest of their lives. When they open it up, they will know how much you care about them. It's a unique way to celebrate that lasts long after the holiday is over. This personalized sentimental Valentines day gift pairs well with any cheesy pick-up lines, making it perfect for anyone who may need some help in the romance department this year!
Our new copper matching keychains are a simple and creative way to decorate your keys. This keepsake will remind you of the memories, people or events that made them meaningful. All created by hand in our studio, they make for an elegant Valentine's Day gift – only $27!