MATCHING BRACELETS FOR BOYFRIEND AND GIRLFRIEND
Any time is the perfect time to show your loved one that they are special. Give them an unforgettable gift with Matching Bracelets, designed and handmade by Rostozzi Art Studio. Made from noble copper darkening over time and polished back to its original look with just a little effort. These bracelets can be personalized and will last for decades thanks to their durable nylon cord.
Discover new meaning in gifts with these bracelets.
Connecting two people in what is often called "young love", this gift show transcendent qualities. Its value will grow over time.
Matching bracelets for couples are a timeless gift, treasured by girlfriends and boyfriends alike. The beauty lies in the half-hidden pop of color that's there when you need it most. Rostozzi Art Studio produces this design with care – each washer is hand stamped with expressive words or initials that will grow more beautiful over time, while still showing your special bond today. Create something very personal for someone you love!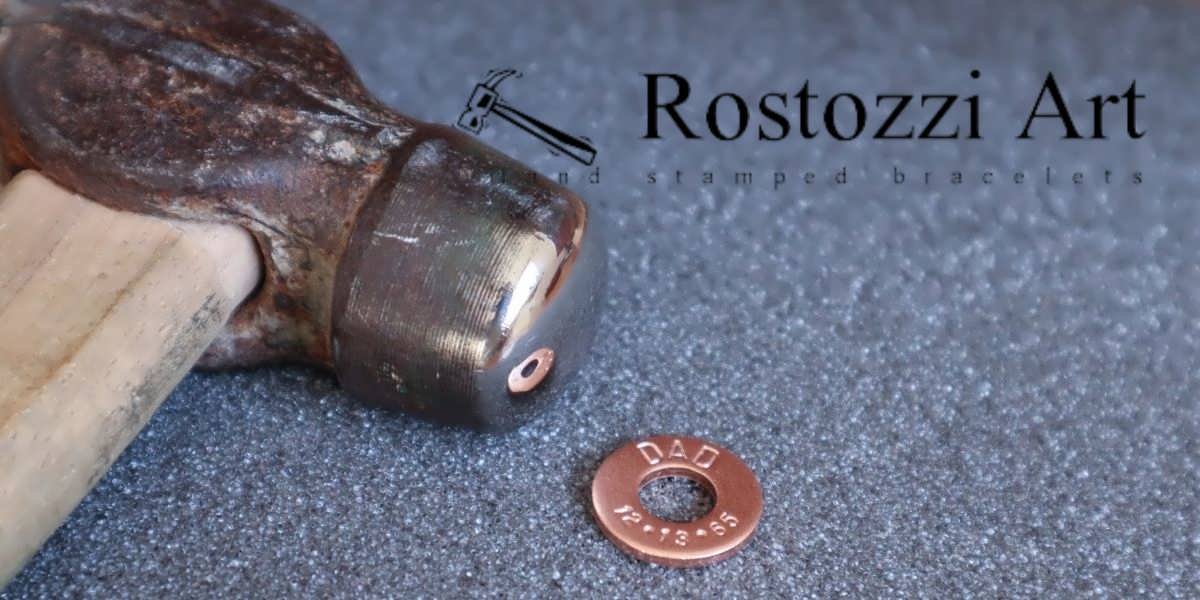 Matching Bracelets for Boyfriend and Girlfriend.
Next best thing to one heart beating within both bodies; seeing two people walk around hand in hand without wanting to rip out their hearts at all times; finding an always available friend whenever they need them the most; giving life meaning every day.
Celebrate the love of your life with our handmade bracelets! Evoked by nature and found paintings, these bracelets will tie all the moments you never want to forget. With smart everyday wearability matched with Laconic style, these are pieces that last through time.
A designer, Rostozzi Art Studio createds these Matching Bracelets for Boyfriend and Girlfriend. The bracelets are hand stamped with your choice of any inscription on one or both sides, each done in the noble copper which eventually darkens over time but can be easily polished at home.
Cute and romantic to wear it on a summer holiday, Birthday or Valentine's Day. They look so cute together as one-piece of jewelry you can found nowhere else!
Presenting a one-of-a-kind present for any girlfriend or boyfriend, this creative and funny gift is guaranteed to make them smile. Present these matching bracelets with copper washers made by Rostozzi Art Studio. Each bracelet has customizable messages on its surface.
Our Matching Bracelets for Boyfriend and Girlfriend are a great way to preserve a precious memory in time. Your loved one will love the emotional value of this piece, not to mention the connotation that you chose it! Rostozzi Art Studio makes sure each hand stamped message is created with meticulous detail. The copper washer transforms over the years into an unique heirloom.
A thoughtful gift. You can wear them together or separately for any occasion – simple yet so deep in sentimentality and meaning – because moments cannot be re-lived once lost.
These modern bracelets are created by Rostozzi Art Studio specifically to match any couple in love. You don't just want these for yourself, you know someone who would absolutely adore one too! The bracelets are much more than simple accessories; they're symbols of love which you can wear for decades to commemorate life's most precious moments (or your anniversary!). This is an excellent gift idea for Valentine's Day, Wedding Anniversarys & Anniversaries.
The ultimate gift for all relationships. The embossed copper bracelet is adjustable so it can grow with you both. The text on the inside offers the perfect place to express your love, just as much as any two little hearts would! With a matching token of love for both partners, this keepsake bracelet is sure to please for decades! These durable bracelets are made by hand in Rostozzi Art Studio.