COPPER KEYCHAIN FOR LOVER
I know you want to gift the perfect gift for the person who inspires you, but unless you have some creative ideas on how to show it, this simple Lover Keychain from Rostozzi Art Studio may be just what a collection of a few words can do. This keychain makes an excellent gift because one size fits all and allows customization with any inscription, date or initials engraved into rich copper that will darken over time making it even more sentimental.
Wearable art is at the heart of this company that offers signature pieces that are designed by artists. Combining old world handcrafted techniques with modern sensibilities has led to products like these cleverly styled keychains.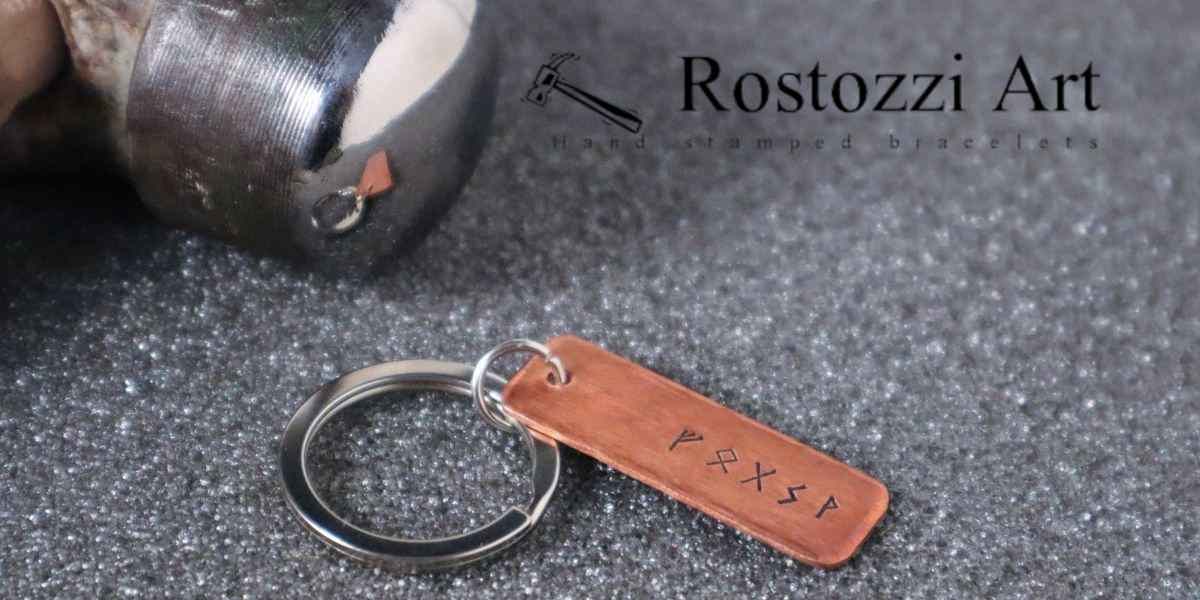 Introducing the newest addition to our Rostozzi Art Studio product line: a customizable keychain. It features distinctive hand hammered texture, and you can add any inscription, dates, initials to make it perfect for him or her! We create custom keychains that are personalized and made from copper. Features include a laconic minimalist style with a noble copper darkening tone over time.
Lover Keychain is a personalized, not just any ordinary keychain. Finally, there's one that speaks to you. With this hand stamped copper tag on your keychain, make it sentimental with some text like "soulmate" or date special occasion engraved onto the impressionable surface of this lovely piece! With Lover Keychain by Rostozzi Art Studio, each person can get their own sentiment for their keys inside of an artful design handmade. Wearing Lover Keychains crosses into everyday clothing adornment- nothing says romance like wearing them all day long.
Lover Keychain.
Do you believe in love at first sight? We do. Lover Keychain is a perfect personalized gift that will be treasured for decades to come. Choose from our custom hand stamp options or add your own to create a truly original key ring.
Noble Copper darkens over time so with every day, month and year it becomes more personal than ever before; becoming an heirloom which.
Stop by our site and see why Lover Keychain is the perfect romantic gift for him or her!
Present for Men that can be given any time of year.
Give your lover a custom engraved personalize love keychain this Valentine's Day! Give them something special to remember you always with this great idea for lovers who want something sentimental to wear everyday or keep as decoration when not used. You can even add our included washer with any text on it too!
You want something that is uniquely personal, that you can customize to your liking. You need a keychain with some serious sentimental value. The Lover Keystrap by Rostozzi Art Studio meets all those needs and more! Our hand stamped copper miniature will be the one thing no one else has and fits great on a set of keys or thrown in a purse. This piece is so versatile, so personalized – it really could be an anniversary gift, just because present for him/her, or any other special occasion. Make sure to order yours today before they're gone forever!
This hand stamped copper keychain is a great gift for men and women. The design signifies the commitment between two people and is not limited to lovers – it can also stand as a symbol for friends, family, or even one's self. With personalized and engraved tags and sturdy construction, this piece will last infinitely beyond trips lost keys or petite love affairs.
Come up with a meaningful inscription or make it heartfelt and unique by having the text from one partner stamped onto the keychain for the other, giving them something simple yet sentimental to hold onto for decades! Bring LOVE back into fashion with our darling Lover Keychains by Rostozzi Art Studio!
Give a classic love token that will last for a lifetime.
This customizable keychain is made of thick copper and features a dark, laconic style that will age beautifully as an expression of your lasting bond. Write the inscription only you know to give him or her this noble metal keepsake commemorating your love with exclusivity and sentimentality.
The choice of either discerning men or lovers women alike, our sentimental metallic creations speak volumes without saying anything at all.