CUSTOM BRACELET WITH ANGEL WINGS
Preserve your most treasured memories with a beautiful In Loving Memory Bracelet. Imagine the horror of losing something precious, like the death of a loved one. This Laconic minimalist bracelet is specially designed to hold custom text on one or both sides; perfect way to keep dear phrases close to heart every day. It can be written any inscription, dates, initials, name etc., making it an excellent gift for men and women alike.
The Noble Copper darkens over time but becomes brighter when polished with copper polish. Custom color available too!
Wear our in loving memory bracelet to remember your significant moments. This bracelet can be customized with all the special people you have lost, more importantly oneself.
Celebrate and honor the memories of those you love. Choose your personalized sentiment, date, initials or name. The hand stamping technique produces a textured look that is Laconic minimalist style, where each word adds inherent meaning.
Preserve your special memorable moments with this extraordinary bracelet.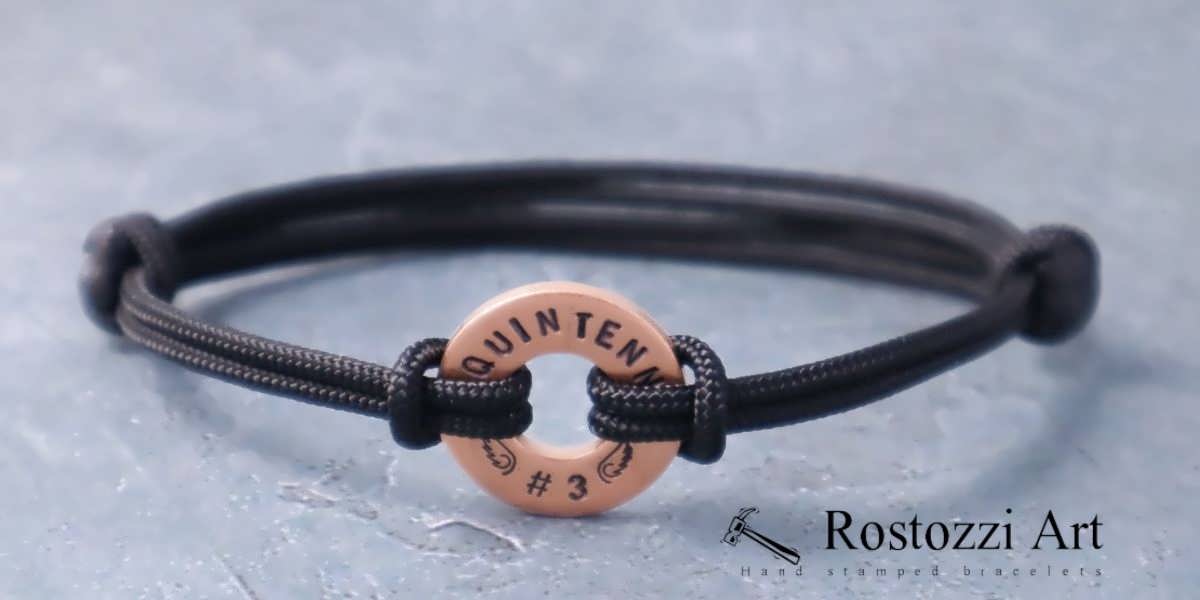 "Memorable for a Lifetime: Preserve the memories of a momentous occasion with this genuine hand made Copper In Loving Memory Bracelet that will become bronzed over time. A customized bracelet designed to be worn for decades that also serves as an important reminder every day. Features laconic minimalist style written any inscription, dates, initials, name etc."
You will NEVER forget how much you love. What is your most treasured piece of jewelry that reminds you of someone important to you? Is it an engagement ring, wedding band, or just a necklace? This is why the In loving memory bracelet by Rostozzi Art Studio provides all the answers to anyone who wants to preserve their most cherished possessions with style and grace. With our extraordinary bracelets "that open old wounds" – as our customers so aptly put it – buying one will not only allow us here at Rostozzi Art Studio to create something unforgettable for YOU, but also remind YOU what's really important in life.
So stay away from knock-off pieces that are flimsy and unremarkable – be eco-friendly today!
In loving memory bracelets preserve life's memorable moments. Thicker copper washer on a very strong nylon cord that is durable and adjustable for men or women. All letters of your inscription are hand stamped to last years, even decades of wear. The design is left minimalistic and laconic for a classic approach that will grow more beautiful over time with a dark color of noble copper.
When you think back to all the unforgettable moments of your life, which ones stand out the most? With our In loving memory bracelets from Rostozzi Art Studio, it's easy to wear a piece of history on your wrist. Preserve both sides with a hand-engraved inscription in lovingly rich copper. Our gorgeous gifts show that you care not just about how they live their lives but also the memories they carry with them when they take it away too soon.
Every loved one has a special moment of life that they hold near and dear to their heart. Who knows, maybe it's the day that you got your first kiss or when you held hands for the very first time. Preserve these moments with our exquisite In Loving Memory Bracelets by Rostozzi Art Studio. This personalized jewelry makes great gifts for men and women.