I LOVE YOU KEYCHAIN FOR HIM
The keychain is made of thick copper and features distinctive hand hammered texture copper tag. It includes laconic minimalist style that will look great on his favorite belt loop or in her pocketbook clasp anywhere at anytime day or night! This personalized copper sentimental keychain can also include any other text – dates, initials, name etc., allowing you to create something simple yet touching that he'll wear for decades to come!
Every great adventurer needs an extraordinary keychain, and this one is incredible!
With this handsome I Love You Keychain, you can personalized his most important possession with any inscription of your choosing. Your man can wear it to work or even with street clothes for that ever-so-stylish touch. Whether he's lounging by the pool or glazing over lists at the end of a long day, he'll always be reminded of you and all your love right next to his keys.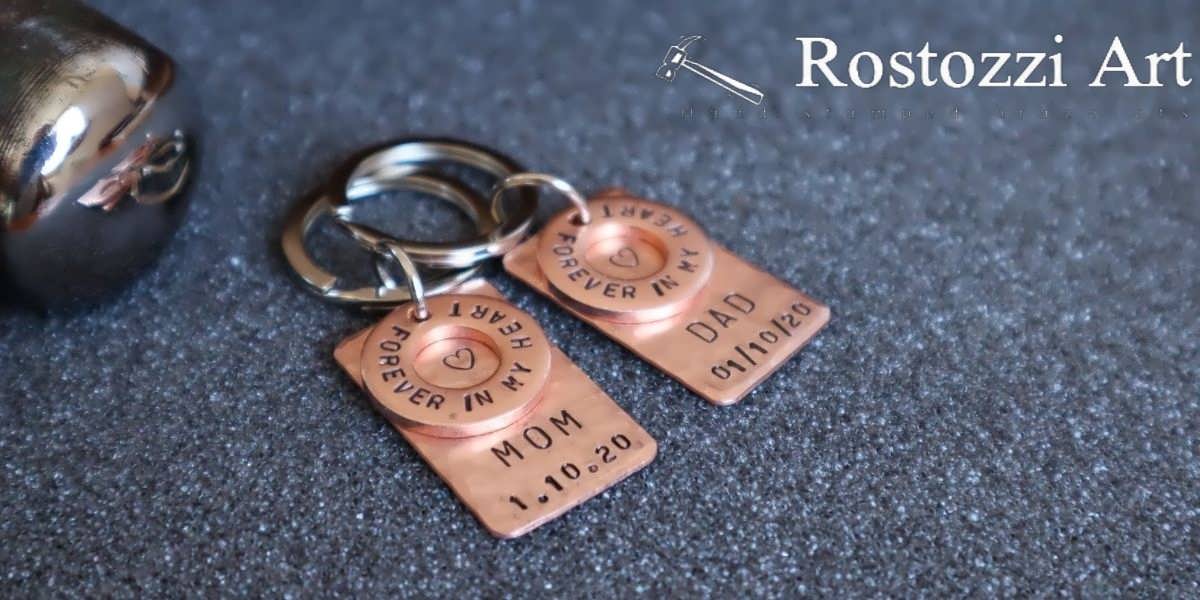 He is not getting this for Christmas – but I LOVE YOU, daddy! Give your most special person a gift that will make them feel the love every day. The most heartfelt gifts are found in the simplest parts of our lives.
If you're searching for a sincere token that can hold memories and sentiment deep into old age, then look no further than Rostozzi Art Studio's hand stamped copper keychain with washer!
Tired of buying gifts that get tossed aside and forgotten? This is the perfect gift for guys and girls! Personalize it (on the keychain and washer) with initials, dates, or a name to make it unique. You can't go wrong with this special gift!
Our I Love You Keychain for Him is the perfect gift for any guy looking to make a sentimental gesture, whether it's his anniversary with his girlfriend, Valentine's Day, or even simply after you surprise him by meeting up on what was supposed to be your regular coffee date. The keychains are made of thick copper and feature our distinctive hand hammered style.
Express your "I love you" with one of our personalized keychains. Customize it in any way you like and enjoy wearing it every day. Great for couples, we create something simple and touching to be worn for decades.
A perfect gift for any occasion: anniversaries, graduation day, birthdays, wedding ceremony or anniversary party.
This personalized keychain will tell your loved one just how much you care. Engrave any heartfelt words or monogram to make this a heart melting gift.
Fabulous keychains that are personalized in heartwarming style. I Love You Keychain for Him by Rostozzi Art Studio offers custom hand stamping to make this gift commemorative and one of a kind. Engraved with your loved ones name, year attained, date, initials or any inscription you wish, this is a sentimental gift he will cherish for years to come.
The brand's products are made with durable materials in distinctive hand hammered texture patterns on pure copper tags, which turn rich chocolate-brown over time. With almost anything you want written on the keychain and washer (like an anniversary date), these gifts are perfect reminders of why they matter most.
"I Love You Keychain for Him by Rostozzi Art Studio is the perfect way to say I love you!"