COPPER HIS AND HERS KEYCHAIN
You can't go wrong with this thoughtful present for both men and women! Our custom-made keychains are engraved at your discretion adding that special sentiment to the timeless design. Keeping things simple, our copper pieces come in an austere version of Laconic Minimalism.
Your guy will think you're the coolest chick on Earth when he sees this classic keychain for his and her. Bonding over a shared shiny object plus it doesn't get more masculine than hard copper. And everyone knows how women love to get their hands on anything with charm! He'll wonder where he put his keys so often, but at least they'll always be together from now on.
You can now have a stylish, personalized keychain that fits both your sense of style and your partner. This product is perfect for any occasion whether it be Valentine's Day or an anniversary.
In order to have fond memories of you both all year round, why not custom personalize your own keychains with your story? Whether it's a date joke or a secret sentiment, we can customize one for each of you while adding that extra special sparkle. Your deep bond is evident in every distinct hand stamp while having something that lasts forever.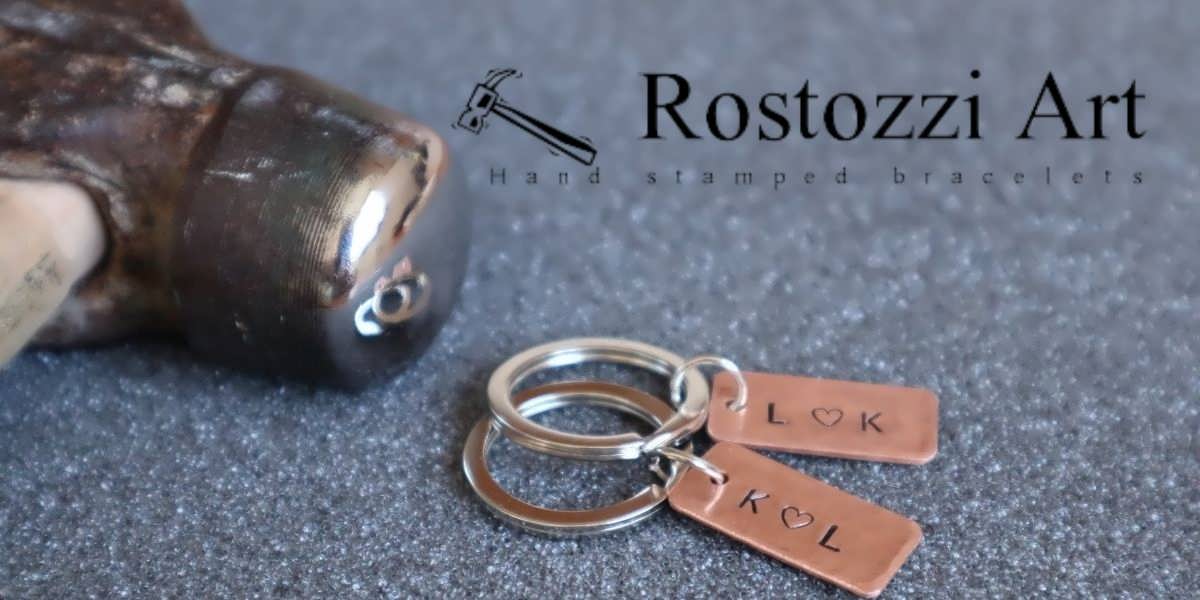 His and hers keychains are custom styles. They also come in set of two so it is the perfect gift for boyfriends and girlfriends. Our key chains are unique because they have a hand stamped style product with hand hammered texture copper tag.
They will feature prominently as Valentine's Day, anniversary, or another special occasion gifts!
No, this is not just another cheap keychain!
Our His and Hers Keychains are the perfect gift for newlyweds, long-time couples or any two people who share a deep sentimental connection. We've taken some of our favorite features from hand stamped jewelry to come up with this design: thick copper keychain made by Rostozzi Art Studio in solid shape. Each piece can be customized individually with your choice of initials on beautiful hand stamping. This also makes it a fun Valentine's Day present that will say "I love you" without blaring it on traditional message cards or flowers bursting out of overpriced cupscake arrangements at the local grocery store.
Two hearts beating together, a love that will last a lifetime. This personalized His and Hers Keychain is perfect for Valentine's Day or anniversary, bringing the story of your lives together in metal.
"This spectacular set of matching keychains is the perfect way to share your love with two people. Whether you're boyfriend and girlfriend, husband and wife, friends or just using them as cute holiday decorations for Valentine's Day, this matching his-and-hers keychain set will feel sentimental through its simplicity."
His and her keychains.
Buy a set of personalized keychains for boyfriends and girlfriends, or the perfect gift for any occasion from one to sixty years!
Hand stamped with a hand hammered texture copper tag that features a distinguished text.
It's been a while since you've been away from each other and it feels like you can't go one day without thinking of the person who completes your life. A lot has changed over the years but even though everything changes, time stands still when we're together.
This is why this keychain will be perfect for both of us – to remind ourselves that love is never lost, just renewed with every reunion. Even if we have to wait a century or two before that happens again.
Two hearts beating as one… on our keys!