CUSTOM HIS AND HER BRACELETS
These bracelets are one for him, and one for her. Show your partner you care with a personal gift that lasts a lifetime. Customized His and Her Bracelet can be written any inscription, dates, initials, name to make them even more unique to the wearer. The copper washer on a very strong nylon cord has an Laconic minimalist style which will darken.
These gorgeous copper bracelets are perfect for the couple with matching styles. Choose from customizing a personal message on one or both sides of each bracelet or just a simple date.
Even if you have to live in different cities at different times that doesn't mean your love has to be confined by distance. These clever contraptions make it easier than ever to show some romance every day. They say opposites attract but they forget: like attracts like! Match them up today so their new companion can tell their story, too!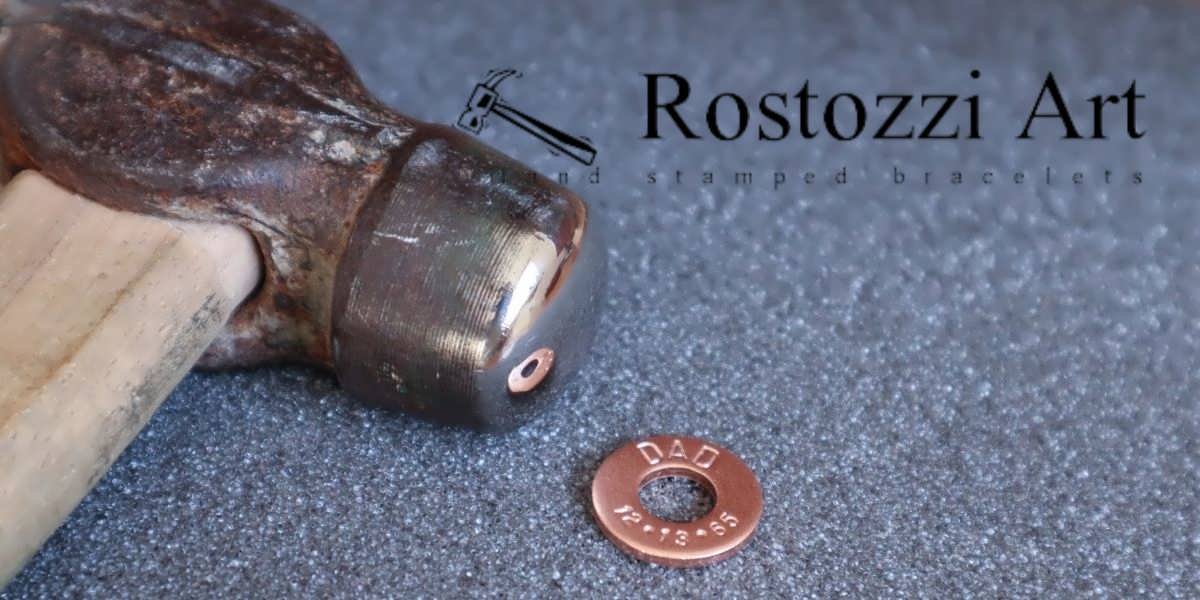 Let's get personal; why not surprise her with the inscription of "Forever." For when he needs reminding that no one is more special than she is, the bracelet says it all: "Love You Girl" – from him. And hey – this could be just what you need for wedding favors or a Mother's Day gift… Give mom and dad theirs today!
-He & She Bracelets made by Rostozzi Art Studio
Keep your love close to the heart with our His and Her personalized bracelets. Stamped from premium copper, these bracelets are both durable and attractive.
Personalized His and her bracelets. Sometimes we need something for the other person, too! A lot of love goes into these matching bracelets when you use the his and hers option to write a little secret.
There are two sides to every story. When you put yours together with his, it's a beautiful adventure that life will forever be filled with little surprises and happiness. These bracelets by Rostozzi Art Studio is the perfect accessory for your man and woman.
He and she bracelets are made by Rostozzi Art Studio, the perfect jewelry for a couple. He and she custom bracelets can be engraved with anything-initials, date of birth, name-whatever you choose to make them just for you! Choose among four different types of cords colors to match your personality or the occasion. Plus at any time you can change how tight they are on your wrist…money well spent when taking into consideration that heirloom quality is part of these beautiful customized bracelets. Look no further than he and she bracelets which will always grab attention whether worn as a set or not!
These are the perfect his and her bracelets – made by Rostozzi Art Studio from thick, dark copper. This piece is for a couple to share so they can wear it together or separately as an individual. The personalized inscription will make this something your partner won't have seen before! You can choose the color of the bracelet cord too, making these bracelet sets that much more personal! Our designs offer great gift options for couples so you can be sure to use one for him and one for her. Make matching bracelets with dates stamped on them like "MM XX" to commemorate an anniversary or other special occasion like a honeymoon or new baby.
Looking for the perfect gift for your significant other? Our bracelets are just what you were looking for! These customizable bracelets fit on either wrist.
These personalized bracelets can be worn for decades and make an amazing gift for two (men or women).