CUSTOM DAD MEMORIAL BRACELET
Everyone has a dad. We all have memories of our dads—the things they said, the way he smelled, his presence. If you're lucky, you still have theirs too because your dad is always with you in your memories and heart. With every passing year our dads become a little less tangible to us as their life accomplishments emerge from the past into legends that we tell ourselves to keep them alive in our minds.
It's hard coping with loss, but give yourself this opportunity to remember all the good times you've had with someone special.
In memory of those fathers who are no longer present here today this bracelet was created as a beautiful lasting token for those precious moments you had together! Wear it now as an emotional reminder or wait until it's tarnished as time passes and darker lines reveal themselves creating the perfect patina to remind yourself of those moments with him forever.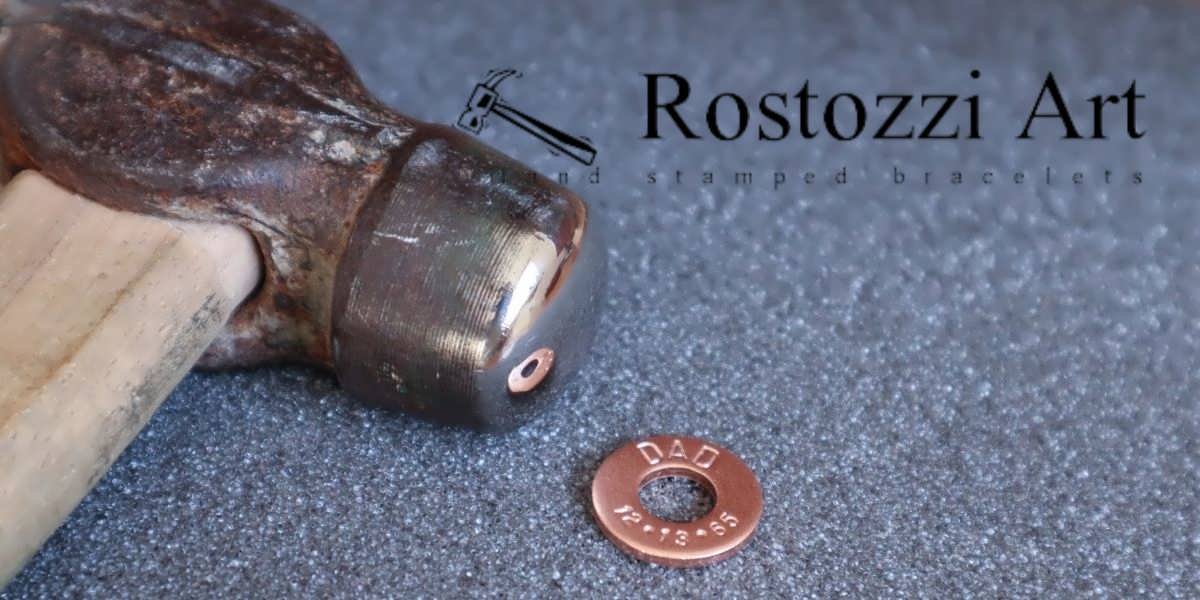 Dad memorial Bracelet from Rostozzi Art Studio is a great way to preserve and honor your special memories. This copper bracelet has been hand stamped with any inscription, date, letters, name or initials you would like stamped on one or two sides of the washer perfect gift for yourself or others. The strong nylon cord adjusts in size so it will fit both the female and male wrist while not being too tight or too loose. Do not take this product lightly as it holds a serious message! Remember dads everywhere who have fought valiantly in service to their countries-honor them with a dad memorial bracelet from Rostozzi Art Studios today!
The Dad Memorial Bracelet by Rostozzi Art Studio is the perfect way to keep memories alive.
Weeping over the sudden absence of a loved one is tough.
It's even more difficult when they died recently.
Our Dad memorial bracelet is a beautiful, meaningful yewelry for you to wear in order to honor the father. One of the things that makes Rostozzi Art Studio different is that we create high-end products which also serve as artwork. This is one of our most popular bracelets because it's durable yet designed with care—remembering your dad always.
Keep your memories close with the personalized sentimental jewelry that is Dad Memorial Bracelet by Rostozzi Art Studio. This elegant bracelet is made of Thick copper washer on a very strong nylon cord which can be hand stamped with any inscription, dates, initials, name etc. Made to last for many years and easy to personalize for men or women it's a great gift choice too. You also have the option of choosing between five different colors of the bracelet cord!
Every little girl remembers what her dad did for her. This bracelet is a sturdy reminder that will last you just about forever of the special person, who gave you so much support and love throughout life. The quality copper handstamped bracelets are personalized with your favorite quotes or dates of monumental importance, children's initials, name on one side of the band or both sides if desired.
The Dad bracelet is a sentimental keepsake for commemorating your dad.
We're all here because we lost someone we loved dearly; whether they were our mom, dad, sister or brother; husband or wife; son or daughter — I know that every little piece helps you feel better and live wholeheartedly again. You can always do what Rostozzi Art Studio does: cherish those memories so.
Solemnize your memories; commemorate them forever with a hand stamped Dad bracelet. Choose any inscription or date combo to tie together your worship for someone important in your life like dad, brother, mother…basically anyone who is no longer here.