IN LOVING MEMORY KEYCHAIN
Give your loved ones something personalized to carry them through life. Create an everlasting heirloom by honoring someone you would like to remember.
This can be a really sentimental gift to someone dear in your life. There is the any inscription, the years of memories attached.
Our keychains are made with thick copper, hand hammered for texture and adorned with an intricate design that allows you to write what ever message you want for this personalized Keychain. Darken over time with use this symbolic product will become more precious than anything else!
This is a proudly handmade keychain that celebrates your loved ones' creativity and memories. With our personalized keychains, you will have something simple yet touching to be worn for decades.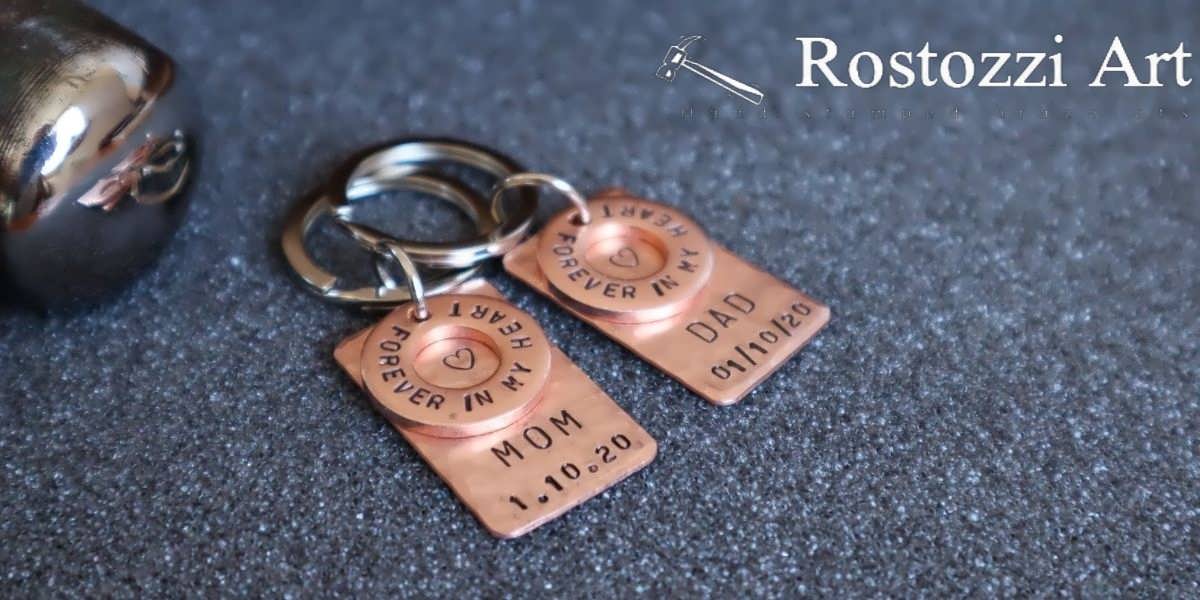 You'll cherish a gift given to you or a keychain that holds heartfelt sentiment for years with the Custom in loving memory keychain by Rostozzi Art Studio. Preserve life's memorable moments beautifully with our extraordinary keychain-customizable and hammered from copper. The personalized sentimental keychains are made by people who get it-as we know nothing is more personal than preserving memories of someone else dear to us, but also thoughts shared between friends. These products have been part of many cherished moments, cherished relationships, and heartwarming stories told for decades past generations – they're timeless reminders of what really matters most in this world.
A wonderful and beautifully made miniature piece of art for yourself, your loved ones, or as a perfect gift just about anyone. Keepsake keychains are the way to go if you're looking for an option that's not only sentimental but also quite unique. Customizable hand stamped personalized keychains are practical every day accessories that will be worn with pride for years to come.
These quality memories on a copper keepsake won't fade away- they'll stay close to your heart always! Be sure this product is the one thing you never leave at home.
Custom In Loving Memory Keychain from Rostozzi Art Studio! It's made of thick copper and hand hammered for a distinctive Laconic minimalist style that only becomes more intriguing over time. Made for men and women as well as those who want an accessory that will be cherished throughout decades without ever losing its meaning! Bring back some beautiful memories with Rostozzi Art Studio today by scheduling your order now!
This keychain is perfect for the loved one in your life who cherishes their memories of people or places that are special to them. Combining sentimentalism and utility, it will serve as a lasting remembrance of people you love.
With more and more people getting tattoos, this personalized keychain is a thoughtful gift. A perfect way to commemorate your loved ones passed on – with the inscription of their name engraved on a beautiful hand-hammered copper tag, an In Loving Memory Keychain will serve as a symbol of everlasting love for years to come.
Our copper keychains are more than just functional. They serve as a tangible, meaningful symbol of love and remembrance to treasure for the rest of your life.