CUSTOM KEYCHAINS FOR COUPLES
These personalized keychains are cost-friendly yet incredibly thoughtful gifts that your loved one will cherish for decades to come.
A personalized keychain of love makes the perfect gift for your significant other! You can enjoy this laconic minimalist style that will last long into the future. Preserve life's memorable moments and create something simple and touching to be worn for decades with these Rostozzi Art Studio personalized initials keychains.
Meet these hand stamped keychains for couples. A great gift for two that is easy of personalization.
Custom Couples Keychains by Rostozzi Art Studio is a great gift for two. Made of thick aluminum, the keychain won't tarnish, so you can wear it for years to come. Customize this romantic keychain.
Rostozzi Art Studio creates necklaces and other jewelry for couples, perfect as a gift! Our necklaces are designed to preserve life's memorable moments and this personalized keychain makes an excellent hallmark gift when celebrating anniversaries, Valentine's Day, Christmas gifts, weddings or other romantic occasions!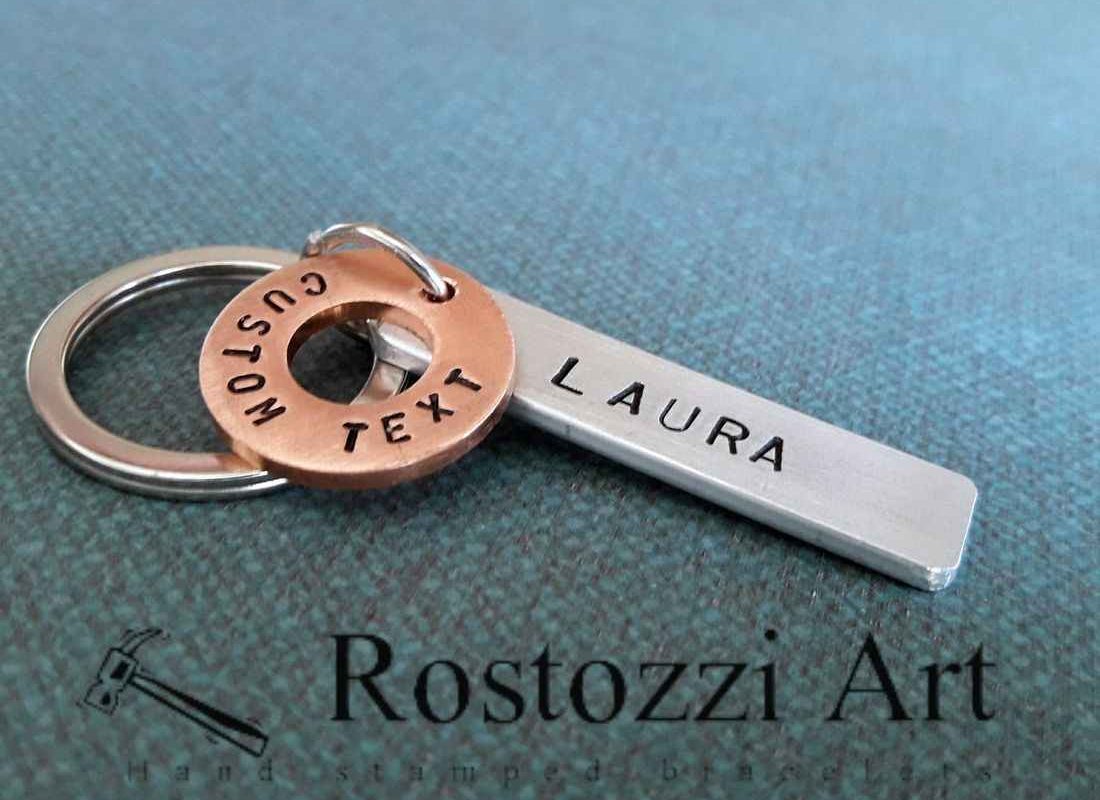 Celebrate your love with a Rostozzi Art keychains. These personalized keychains, look great on any purse or backpack, and will last for years to come!
Discover our wide range of customized engraved gifts. Keep your partner in mind at all times when they look at their keys! Gift them with a romantic keychain that's just for them, somewhere between an anniversary gift or Valentine's Day present idea.
Custom Couples Keychains by Rostozzi Art is a great personal gift for anniversaries, birthday gifts, or just to show that special someone how much they mean to you.
Commemorate couples with our keychains engraved in elegant script. From the classic Couple's Key Chains to personalized custom Couples Name Keychains, they make a perfect gift for an anniversary or Valentine's Day.
Our artisans create the perfect keychain for you and your partner, but we don't stop there. Customized to meet your needs and desires. Give as a gift or keep it to yourself as a special token of everlasting love. Share what matters with this poignant keepsake that is uniquely personalized just for you.
Consider a new and creative way to show your adoration. Our custom keychains for couples make the perfect personalized gift for two. Hand stamping will never look this good again – Trust me! Your love is simple and touching, like ours, which is why we create something that you can wear for decades to come with pride. These sentimental keychains are valentine's must-have; they're perfect for anniversaries – and so on! So stop spending time looking and give what you know: happy couples.
For the couples who are in love, Rostozzi Art Studio's custom-made keychains are the perfect gift. These engraved keychains give you a piece of your loved one to keep on hand with any simple gesture. The possibilities for these metal art pieces are endless–engrave them as wedding or engagement gifts.