FOREVER AND ALWAYS KEYCHAIN
The keychain is a perfect sentimental gift for a loved one. Choose a personal quote to be engraved on the washer or add any inscription, dates initials name etc., to finish your personalized keychain. The elegant design features distinctive hand hammered texture copper "tags," which say always and forever. This exclusive piece of jewelry can be written in person – with words that are witty, insightful, touching or whatever you feel is right for it.
A time-honored keychain perfect for a couple's love nest, your wedding day keys, or a person of distinction.
So meaningful and created with care that it will remind you every day of the emotions shared with those who have had a part in your life. Whether new friends or old friends both single and together, this is the perfect memorial to helping make memories last. This will be cherished long after all other possessions are lost…
This uniquely crafted, personalized present shows how much you value a special relationship by taking into account what they need most!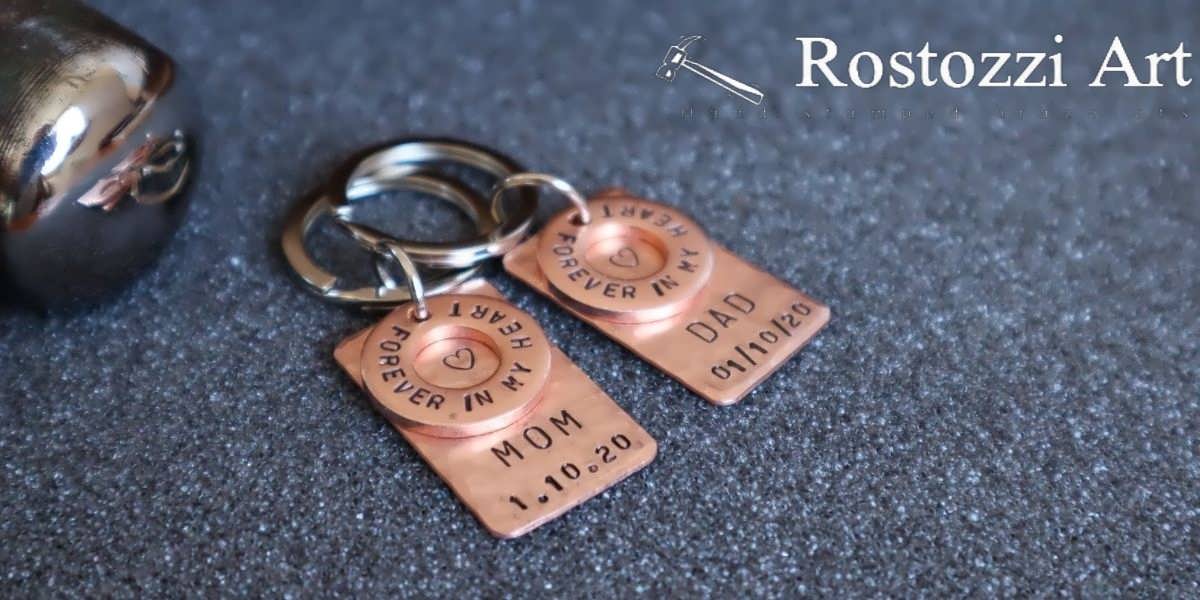 We wish to preserve life's memorable moments. To keep the love and memories forever close at hand, we create something simple and touching to be worn for decades. Tired of lost keys, broken chains? The Always and Forever Keychain by Rostozzi Art Studio will never let that happen!
Always with you!
Customize this personalized keychain with any inscription, date, name or initials. The hand stamping of the writing on the durable thick copper plaque makes for a sentimental gift to last forever.
The intricate designs and hand hammered texture make it one-of-a-kind. Whether you are looking for an anniversary present for either him or her, knowing there is no spent sentimentality in searching…we will make your occasion more memorable with our products.
Our Always and Forever Keychain is simple but significant. It's a wearable reminder of your most cherished memories, sentiments, or messages. Choose from one of our personalizable designs for the perfect gift that will be cherished by friends or loved ones now and forever.
Our keychains are one of a kind, custom-made with LOVE! We use hand stamping to make them; you'll find the keychain is made of thick copper. The tag has an undulating texture and can be written any inscription, dates, initials, name etc., making it your special keepsake. Our noble copper darkens over time naturally – this oxidation process creates an antique look that brings character and our products gain something extra. Hold on tight to this small treasure for many years to come!
Memories last a lifetime and will always be with you, every day. Always and Forever keychains are customized to create your one-of-a-kind sentimental treasure that reminds all who come across it of the people they love most in their life. Every item is engraved with your words precisely as you would like. Use these personalized gifts to show how much you care about someone special in your life!
This is the quintessential love token. A personalized keepsake for you and your loved one, or anyone who deserves some recognition about this keychain's sentiment of lasting love. This little solid piece of copper features noble darkening over time with just the outlines of the engraving visible to show that feeling lasts. Personalized names or initials can be stamped into it to commemorate upcoming anniversaries, Valentine's Day gifts, marriages vows – all significant moments in life worth being marked down on a life-of-copper timeline.
Delightful and perfect present for their wedding, anniversary or birthday this Always and Forever Keychain from Rostozzi Art Studio is hand stamping. Customizing your keychain with an inscription of any text on the keychain and washer, you can add a touch of personal sentimentality that will be cherished for years to come. Preserve life's memorable moments by buying a lovingly made Always and forever Keychain from Rostozzi Art Studio today!