8 YEAR ANNIVERSARY GIFT FOR COUPLES
The family tree is a unique gift for anyone family, man, woman, wife, husband.
It's a lovely way to show someone how much you care and how special your family is.
The names on the photos are made for the sample. The number of figures can be any, but no more than eight. This gift for eight year anniversary will be a reminder of how happy you were at that time!
Build a collection of trembling memories of the best moments of your life.
Hey, bronze anniversary gifts are serious. Make sure the family is thrilled with your choice….
Eight years together is a great date for a family. You can hang the family tree frame on the wall, for example, near your bed. For this purpose, it has a cord on the back side. This gift for 8 year wedding anniversary will be a symbol of the strength of your family and the reliability of your relationship. You will always have your family in full view in front of you on that happy eight anniversary. You just need to choose the number of family members and their names. We do the rest.
Please remember to choose the number of pieces on the board. No one must be forgotten 🙂
If you are looking for a sincere symbol that can hold memories and feelings deep into old age, then it is before you!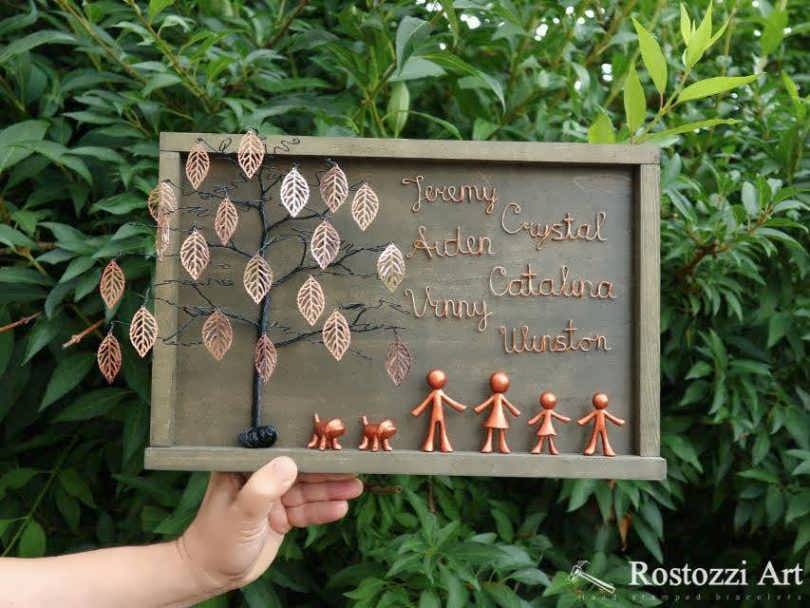 These figures and tree are a symbol of love, family and strong relationships.
Traditionally, bronze is the gift for 8th wedding anniversaries.
Our products will help you preserve the most unforgettable events of your life and also will be a great gift for a holiday or an 8th anniversary.
The number of figures can be selected upon purchase.
All that you see to do by hand and a lot of time.
Figures are covered with bronze paint.
There are many ways to commemorate your eighth anniversary with your spouse.
Traditionally, you'll want to give your partner a gift that represents your friendship and trust. Family tree by Rostozzi Art – a great 8 year anniversary gift.
Do not drop or give the children play.
Each piece is an original one of a kind hand crafted sculpture and no two sculptures will be exactly alike!
Since this is the handmade item, every new good may vary slightly, but the overall look will match that shown in the photo.
Please note, due to the difference in monitors and brightness level, colors may slightly vary.
Please check your spelling on order details as I am not responsible for mistakes on order details supplied by the buyer such as the spelling errors
Personalized orders are not refundable.